Kinesthetic learning is one of the most common types of learning. Hands-on learning is helpful for students in science classes. This is why science classes have a required lab period where students learn through experiments and projects. But one topic covered in science classes has been nearly impossible to learn hands-on until now: biological evolution. It is hard to physically show students how a species evolves over time in a classroom. But now there is a new online tool that can show students the evolution of populations over time.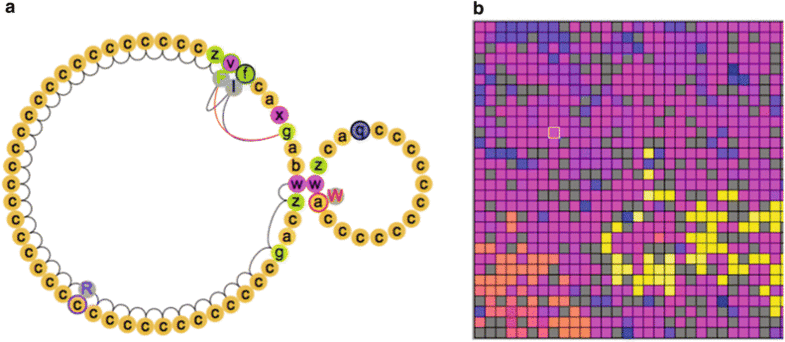 Representative Avida-ED individual and population. Source: Michigan State University
Avida is software used by biologists to watch and study digital organisms evolving over time, from replication to mutation, and competing with other organisms. Researchers say Avida shows true evolution, not a simulation of evolution. Amy Lark, assistant professor of science education at Michigan Technological University, and her research team saw the educational potential of this software and developed an educational version called Avida-ED.
Avida was too complicated and research-oriented for students to use. Avida-ED is simpler. Students use the program to observe and experiment to learn about evolution. There is no research or computer science knowledge required to operate the program.
The researchers tested Avida-ED in classrooms across the country. They chose eleven teachers in eight schools to participate in the initial testing. The students started by taking a test that assessed their understanding of evolution. Teachers taught the students how to use Avida-ED and then students used what they learned from lessons to observe and predict what an organism in Avida-ED would do. After observing a single organism, the students then conducted their own experiments on organism populations.
Students learned the differences between random mutation evolution and natural selection evolution through Avida-ED. A major lesson they learned is that mutations are random, but natural selection isn't.
At the end of the experiment, the students took the same test as the beginning of the study. The results showed that Avida-ED did help the students learn more about evolution.
Lark hopes that Avida-ED can be used in all science classes to teach students more thoroughly about evolution.
A paper on this research was published in The American Biology Teacher.