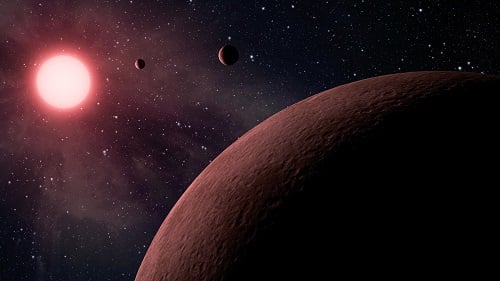 10 new near-Earth size planets found in a star's habitable zone were found in the new Kepler data. Source: NASA NASA has cataloged 219 new planet candidates as a result of findings from the Kepler space telescope team.
Of these possible planets, 10 of them are near-Earth size and orbiting a star's habitable zone, which is the range of distance from a star where liquid water could pool on the surface of a rocky planet. NASA says this is the most comprehensive and detailed list of candidate exoplanet (those outside our solar system) from Kepler's first four years of data.
With this new catalog, there are now 4,034 planet candidates identified by Kepler, of which 2,335 have been verified as exoplanets and roughly 50 near-Earth size habitable zone candidates have been detected by Kepler with more than 30 being verified.
The new data from Kepler suggest two distinct size groupings of small planets showing that about half the planets we know of in the galaxy either have no surface, or lie beneath a deep, crushing atmosphere that is unlikely to support life.
"The Kepler data set is unique, as it is the only one containing a population of these near Earth-analogs – planets with roughly the same size and orbit as Earth," says Mario Perez, Kepler program scientist in the Astrophysics Division of NASA's Science Mission Directorate. "Understanding their frequency in the galaxy will help inform the design of future NASA missions to directly image another Earth."
The space telescope searches for planets by detecting the minuscule drop in a star's brightness that occurs when a planet crosses in front of it. The data gathered will allow scientists to determine what planetary populations—from rocky bodies the size of Earth, to gas giants the size of Jupiter—make up the galaxy's planetary demographics.
The University of Hawaii in Manoa used the data from Kepler to make precise measurements of thousands of planets, revealing two distinct groups of small planets. They found a clean division in sizes of rocky, Earth-size planets and gaseous planets smaller than Neptune. Few planets were found between those groupings. For some reason unexplained, many rocky planets are up to about 75% bigger than Earth where they take on a small amount of hydrogen and helium that swells their size putting them closer to Neptune's size.