Tech is always evolving to help with activities, from work training with VR headsets to sorting recyclable and non-recyclable trash. With the holidays right around the corner, technology may not just be on your gift list, but may also help with holiday shopping -- one of the most stressful activities of the year! eBay ran a study in 2016 which found that a 60-minute shopping trip causes the same amount of stress as running a marathon. Luckily, there are technologies here to help keep stress down while trying to find the perfect gifts for your friends and family.
1. Shelf Stocking Robots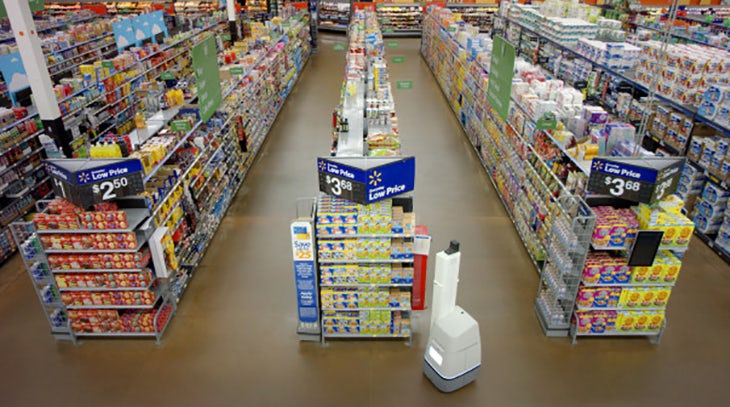 One of Walmart's shelf stocking robots (Walmart)
One of the most frustrating parts of shopping occurs when you're on a long search for the perfect gift and you finally find the shelf where the item is supposedly stored, only to find it is out of stock. Messy shops can add more stress to an already exhausting shopping trip. Walmart is testing robots designed to scan shelves, detect out of stock items, incorrect prices and wrong or missing labels. These robots have cameras that scan the shelves and alert employees if there is something wrong with the shelf. The robots help keep the shelves stocked and tidy, making your shopping trip so much easier.
2. ShopSavvy
ShopSavvy is a great app to find the best deals. ShopSavvy's homepage shows all the sales in your favorite stores and has coupons to use in-store and online. It also provides price checking. You can go in store to scan the barcode of an item you want to purchase, and it will tell you how much that item is at every store available. This guarantees that you are getting the best deal for your money. If you are a budget shopper, this app is perfect for you!
3. Amazon Prime
Amazon Prime is a great membership to have during the holidays. An Amazon Prime membership is $99 a year or $10.99 a month, and it is a great tool to help relieve stress during the holidays. With this membership, you can watch holiday movies or TV on Prime Video, and play calming holiday music while wrapping gifts with Prime Music. You can also save your family photos on Prime Photos with their unlimited photo storage. But the most helpful part of Prime for shopping is the free two-day shipping. Amazon offers free-two day shipping to all members and even same-day delivery in eligible areas. Maybe you forgot to buy a gift for your uncle and the holiday just is a week away. Don't worry two-day shipping is here to rescue you!
4. Pickup Towers and Online Pickup
Sometimes you just don't have time to run into a store, search for your gift among the huge crowds and then wait in a long line to pay. Walmart has installed Pickup Towers in 100 stores to ease this stress. The Pickup Towers allow customers to order and pay for their gifts online, and go to the store and pick up the items which are bagged and ready to go. Basically, this is a combo of online and in-store shopping, without the shipping costs and crowded stores. Walmart is not the only place that uses this type of online shopping. Target, Kmart, Best Buy, Kohl's, Nordstrom, JCPenney are just a few examples of stores that have online ordering and in-store pickup services.
5. Slice App
Online shopping is a popular shopping method that eases the stress of Christmas shopping. While online shopping takes away the stress of having to brave the bustling stores, keeping your online shopping organized can still be stressful. That is where Slice comes in. Slice is an app for iOS and Android devices that helps you keep your online purchases organized. Users link the Slice app to their email, and Slice scans their email for receipts and keeps them organized for you. If you have any tracking emails, Slice will organize your tracking information into one screen. It will alert you to changes in your shipment, from leaving the facility to arriving at your doorstep. This app has a section that offers deals at stores like Anthropologie or Walmart. Slice will alert you if there are any product recalls on the items you have purchased too. This really is the perfect app to keep all of your holiday online purchases organized.
Technology is really helpful for stressful holiday shopping. From in-store technology to simple apps, there is a lot to take advantage of to make everything holiday way easier. Which of these sound the most helpful to you? Let us know in the comments!