Black Friday and Cyber Monday mark the first major shopping days of the holiday season. In past years, there has been a decline in retail shopping and a rise in online shopping. This year, researchers at Adobe learned something else interesting about people's shopping habits. Shoppers are not only doing more online shopping, but they are picking up their mobile phones over a laptop or desktop to shop online.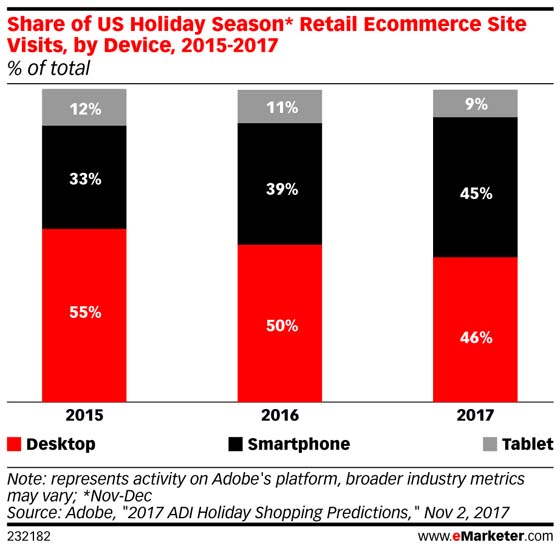 The study Adobe conducted resulted in this research Source: Adobe
Adobe said that early data for Cyber Monday activity showed mobile shopping contributed to nearly 40 percent of online sales.
Smartphones are driving most of the mobile traffic and sales. Smartphone traffic was 21 percent of sales, while sales from smartphone purchases reached 41 percent last year, a new record, according to Adobe. This is another sign of increased smartphone buying. Adobe's data showed a smartphone shopper's average conversion rate was about half of a desktop one, but on Cyber Monday it rose to more than double the rate of desktops.
This was also observed on Black Friday: Adobe said smartphone-led mobile devices had 54 percent of web visits ant 37 percent of online sales on that November 24. Adobe projected this growth in early November.
On average, 30 percent of transactions from the top 10 e-commerce sites were processed on mobile browsers in the week of Thanksgiving. This was up from 28 percent the week before. Qubit, a personalization tool, studied millions of shopper visits across 34 major online retailers over the holiday weekend. Their study said that 56 percent of total online Black Friday traffic came from mobile devices. Last year the number was 43.3 percent.
According to Graham Cooke, Qubit's CEO, "Very big spike in mobile traffic… indicates the speed at which the consumer is moving to an all mobile lifestyle. The consumer has changed, and retailers need to look at mobile as where the growth in revenue is…. Product discovery and creating experiences which provide a seamless segue from an app like Instagram to the mobile website of the brand is now essential."
This research indicates that mobile phones are becoming one of the major ways shoppers are making their holiday purchases, and all signs point to this growth continuing in the future.