One week from today is the biggest shopping day of the year: Black Friday. It marks the start of the holiday season and holiday shopping as well. From the long lines and pressure to find the perfect gift to the crowded stores, the holidays are one of the most stressful times of the year. But they are also one of the most dangerous times for your bank account, and I'm not talking about expensive gifts. Crowded malls and rushed shopping makes people vulnerable to credit card and identity theft. Online shopping can even lead shoppers to scam sites that steal their information under the guise of having the hottest gifts at the lowest prices. Below are some tips you can use to make sure your purchases and private information are safe during the holiday season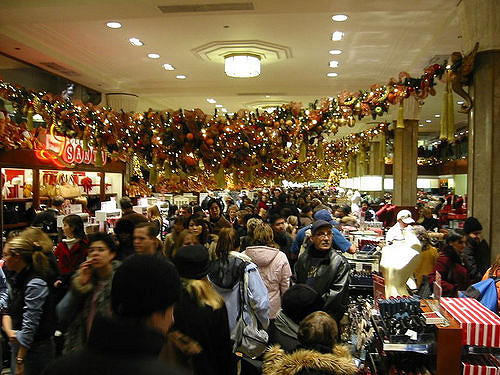 A crowded Macy's store around the holidays. Source: Eric Mueller1. Be Aware of Your Surroundings When Shopping
If you're a fan of Black Friday and holiday shopping, you don't just need to be aware of finding the best deal. While you're struggling with bags and trying to weave your way through the bustling stores, you are vulnerable to identity theft. Make sure you are covering your PIN when entering it into an ATM or card reader. Also make sure you're aware of where you put your credit cards. Be careful to put your card back in your wallet and put your wallet in a safe place. Don't take your card or checkbook out until you absolutely have to. This lowers the chance that someone will be able to memorize your card number.
2. Keep Tabs on Your Debit and Credit Card Statements
One of the easiest ways you can make sure that your bank account is safe is to actively pay attention to your statements. Most, if not all, banks and credit card companies have online banking that allows you to check your statement at any time. Many banks have smartphone apps, which make it even easier to check your bank balance. If you see anything, from a small charge to a huge transfer, or anything that seems off on your account, report it to your bank immediately and let them take it from there.
3. Keep Your Receipts
This one goes hand in hand with checking your bank statements. You should keep all of your receipts in a secure place after you go shopping. This is great for your own records and if you do have fraudulent charges on your account. Keeping your receipts for potential returns or exchanges is good, but it is important to keep them for more than just that. Keeping your receipts makes it easier to prove what you did purchase and what you didn't. If there is a fraudulent charge on your account, chances are your bank will ask for proof of what purchases you did make.
4. Pay with a Mobile Wallet
Mobile wallets have been proven to be safer than using a physical card. Mobile wallets don't require you to pull your card out in front of people, enter a pin number or sign for a purchase. Android Pay and Apple Pay are already on your phone if you have an Android or iPhone. Mobile wallets encrypt transaction data and use tokens (substitute numbers) in place of real debit or credit card numbers stored within the app. Mobile wallets add another layer of security because they require a fingerprint scan before the purchase is confirmed. Mobile wallets may seem a bit risky, but they're actually one of the most secure payment methods you could use. Make sure to keep the password and fingerprint lock turned on to add another, necessary layer to your security.
5. Make Sure You're Visiting Safe Sites
Fraudulent sites pop up all over the place during the holiday season. People are in search for the hottest items on the market during the holiday season. Online shopping seems like the best way to find the best deal on the big-ticket gifts. Online shopping can be dangerous because scams are everywhere. If a deal seems too good to be true, it probably is. One way to keep an eye out for scam sites is to pay attention to the URL. If the URL has "shttp" or "https" that means the site is encrypted and secure. If the site doesn't have a URL like this, it is likely a scam or fraudulent site. Google any sites you have never been on and search for reviews to make sure it is reputable. Also, make sure any shopping apps that you are downloading are from verified sources. If it is not from a verified source, avoid using it. Chances are you can find the item you're looking for from a safer site or app.
With Black Friday and the holidays right around the corner, you need to make sure you are keeping your bank accounts safe. Hopefully, these tips and tricks will help you navigate your shopping experience with confidence and safety.