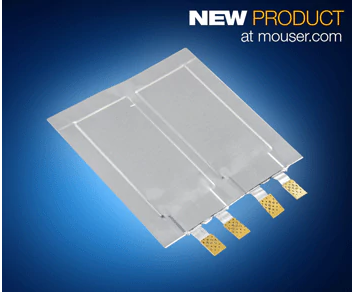 The DMH Series supercapacitor. Source: Mouser
Mouser Electronics is now stocking the DMH Series supercapacitor from Murata. The DMH series has an ultra-thin profile from just 0.4 mm and is designed for peak power assist in wearables, medical patches, e-paper devices, smart cards and other space-constrained mobile devices.
The Murata DMH Series supercapacitor delivers high power with a low equivalent series resistance (ESR) of 300 milliohms at 1 kHz. The capacitor also provides a high peak voltage of 4.5 V and exhibits stable output characteristics over a wide operating temperature range of minus 40 to 85 degrees Celsius.
The DMH Series supercapacitor offers more than 100 times the energy storage than ceramic capacitors and electrolytic capacitors with a longer work life than ordinary secondary batteries. The device is ideal for peak power assist in small electronics, helping to increase output and power stability.
In addition to peak power assist applications, like LED flash, audio circuits and power amplifiers, engineers can incorporate the DMH Series supercapacitor into designs for high-power back up and energy-harvesting applications.
To learn more about this supercapacitors, visit Mouser.