Murata has expanded its DMT series of supercapacitators with a 220 mF model with the lowest profile in its lineup. The capacitor measures 21 mm long x 14 mm wide x 2.2 mm thick, enabling designers to build thinner products and improve end product performance.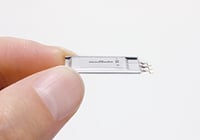 Murata's newest supercapacitor has a low profile and is rated for 220 mF capacitance.
The capacitor has a rated voltage of 4.2 V and an equivalent series resistance of 300 m. The operating temperature range is -40 to +85 °C. Leakage current is 5 µA at 96 hours.
Applications include back up for enterprise SSD or professional use devices which need communication system backup or data backup, as well as peak power assist for battery-driven devices and for data transmission in wireless communications devices.