A supercapacitor is a high-capacity capacitor that bridges the gap between electrolytic capacitors and rechargeable batteries. Supercapacitors accept and deliver charges much faster than a battery and are able to tolerate many more charge and discharge cycles; however, they traditionally have had a lower breakdown voltage and limited energy density when compared to a battery.
Battery chemistry
A battery consists of one or more electrochemical cells. Potential energy is released through redox reactions that occur between electrodes and electrolytes. The anode oxidizes as a current flows through the circuit, and in turn there is reduction at the cathode. The chemical reaction degrades the electrochemical cell as irregularities develop across the surface of the electrode, slowly decreasing its storage capacity. Battery discharge is also an exothermic process that gives off a substantial amount of heat, limiting its operating temperature.
Supercapacitors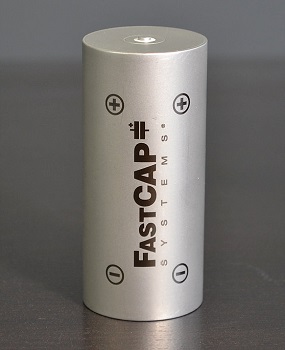 Source: FastCAP Systems Corporation

A supercapacitor, like all capacitors, stores potential energy electrostatically. This is what allows the capacitor to rapidly deliver and accept a charge, in addition to tolerating exponentially more charge cycles. There is no chemical reaction that takes place; however, supercapacitors differ from standard capacitors, as instead of using a conventional dielectric between charged plates they operate off of electrostatic double-layer capacitance (EDLC) and electrochemical pseudo-capacitance technology.
In EDLC there are two electrodes, a membrane separator and an electrolyte that acts as the dielectric. When a voltage is applied, ion absorption occurs on the surface of each electrode and the separation of charge is on the order of a few ångströms (0.3-0.8 nanometers). Capacitance is stored in the Helmholtz double layer at the surface the asymmetrical electrodes.
Pseudocapacitance is the electrochemical phenomenon that occurs along the surface of the electrode in a supercapacitor. It involves a faradaic charge transfer originating at the surface of each electrode, where there is an electron charge-transfer between the electrolyte and electrode. Together EDLC and pseudocapacitance allow a supercapacitor to store 10 to 100 times more energy per unit volume than an electrolytic capacitor, and even though there isn't an actual chemical reaction that takes place, they are considered an electrochemical capacitor.
Comparison
Traditionally, batteries and supercapacitors operated as symbiotic devices. The supercapacitor readily transferred energy, while the storage capacity of a rechargeable battery filled the needs of a power bank. The devices seemed to be unrivaled in their respective fields. The supercapacitor exhibited unprecedented power density, while the battery offered superior energy density. Recently advanced supercapacitors have come to market that break down that barrier.
The nano-supercapacitor
FastCAP Systems Corporation has recently introduced a supercapacitor with vertically aligned carbon nanotubes (VA-CNTs) that are grown on stainless steel and silicon substrates. The VA-CNTs dramatically increase the surface area of the electrodes, allowing them to store up to 10 times more energy than a standard supercapacitor.
Their extreme environment supercapacitors have been validated by Sandia National Laboratory to operate in temperatures from negative 110 degrees Celsius to positive 250 degrees Celsius. They have high shock and vibration limits of up to 500 g peak and 20 g rms, an extended life expectancy greater of more than 1,000,000 charge cycles, and come in a hermetically sealed package.
They are being used as a primary energy storage device in outer and near-space applications, oil and gas exploration, and in other extremes environments. They have been the energy storage device of choice in these demanding environments where a low voltage power source is needed.
Conclusion
Batteries and supercapacitors have long been compared and contrasted by performance criteria. Batteries offer a superior energy density and possess a higher breakdown voltage, while supercapacitors are lighter, have more robust operating limits, possess a longer life expectancy, and have an unparalleled power density.
The introduction of nano materials is revolutionizing supercapacitors allowing for greater storage capacity and more diverse applications. It has now gained the semblance of a competing technology to rechargeable batteries in the field of energy storage devices in extreme environments. While it is yet to be seen how much of market penetration advanced supercapacitors will have, rechargeable batteries will continue to be the go-to device when higher voltage limits and greater energy density are needed and extreme environments aren't a limiting factor.
Resources
What's the Difference Between Batteries and Capacitors?
Ultracapacitors with highest energy density works in extreme conditions