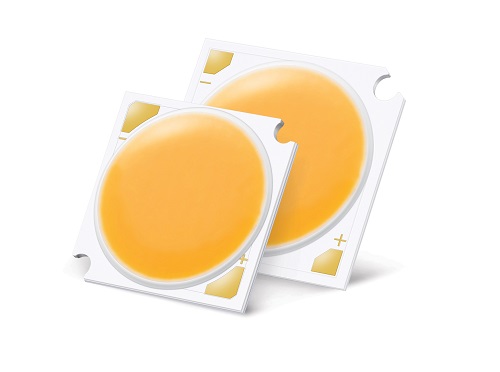 The Samsung D Series. Source: SamsungSamsung Electronics Co., Ltd. has introduced a new family of chip-on-board light emitting diode (LED) lighting packages designed for commercial lighting applications.
The Samsung D-series Special Color series is designed to bring the most color out of objects whose viewing is particularly color-sensitive, Samsung says. The LEDs are targeted at providing high-color vividness without the use of harmful ultraviolet (UV) lighting chips.
Many LED lamps use "Near-UV" chips that can damage the human eye and clothing after repeated exposure. Near-UV rays can display vivid colors but only when the whites in the object being illuminated contain fluorescent brightening agents. As an alternative, companies have turned to expensive ceramic discharge metal-halide (CDM) lamps but they do not last nearly as long.
The Samsung LEDs are for use in three segments of commercial goods, including fashion, meat and vegetables. The LEDs are designed to be most effective through a combination of phosphors to illuminate what is being sold in the most appealing way, Samsung says.