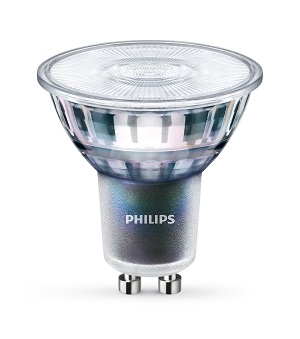 The LED spot lamps. Image credit: Philips
Philips Lighting has launched the Master LED ExpertColor GU10 and MR16, a new range of light emitting diode (LED) spot lamps designed for lighting in hospitality and residential spaces.
Philips says the LED lamps offer an alternative to halogen spot lamps that continue to dominate the high-end hospitality and residential spaces because of a lack of suitable replacements for warm colored light, high color realization and deep dimming. The GU10 and MR16 lamps are designed to provide these features and are 94 percent identical to halogen light color compared to other standard LEDs that only offer about 60 percent, Philips claims.
The LED spot lamps offer a lifetime of 40,000 hours and have a color fidelity with a color rendering index of 97, enhanced rendering of reds and saturated colors. Philips says this is important in areas where designers look to match the interior decors and furnishing with the lighting associated to bring out the colors in these establishments.
The GU10 spot lamps will be available in Europe this month and in Asia in July. The MR16 lamps will be available in North America beginning in June.