Recharging an electric vehicle (EV) typically requires a time-consuming stop at a charging station or an overnight "fill-up" with a home-installed system. Amazon has a concept to keep these vehicles moving and charged up at the same time.
The U.S. Patent and Trademark Office has granted Amazon a patent for developing a refueling drone that can carry the charge right out to a vehicle. The proposal envisions unmanned autonomous vehicles that communicate with EVs out on the road through servers that monitor energy usage and need. Servers relay energy requests to drones, which would then be dispatched to meet vehicles on the road. The drones would authenticate the connection, attach to a vehicle connector on the roof or door and start fueling – even if the car is in motion.
The drone will use an optical scanner to read a target on top of the car to determine if it's the right one, and then dock with the vehicle while it's moving. The rechargeable battery in the delivery drone can be refilled as the craft returns to base.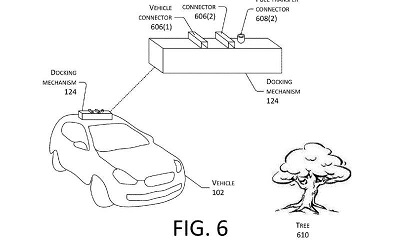 Schematic of the drone delivery/docking system. (Credit: Amazon/U.S. Patent US9778653)