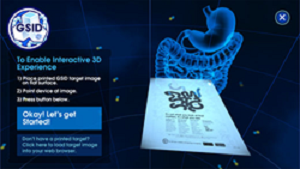 (Source: QOL Medical LLC)What's the difference between Augmented Reality (AR) and Virtual Reality (VR)? AR involves the integration of digital information with the user's environment in real-time; VR apps replace the user environment with computer-generated images. The AR experience can be achieved with no dedicated gear; all that's needed is a smartphone or tablet.
QOL Medical LLC (Vero Beach, Fla.), a rare-disease pharmaceutical company, has tapped into the benefits of AR with the release of a first-of-its-kind app, GSID AR. The tool provides users with AR technology to explore both a healthy digestive system and one with Genetic Sucrase-Isomaltase Deficiency (GSID).
"For an orphan pharmaceutical company, QOL is truly ahead of the curve on this one. The GSID AR App will allow both doctors and patients to experience an in-depth look at this rare disease. With the aid of augmented reality, we can peel away the layers to peek inside the human body to reveal what exactly is going on in there. It's just so cool. No glasses or headgear required! I'm sure our doctors and patients alike will love this new learning tool," said QOL's Vice President of Marketing, Anthony D'Elia.
QOL's target audience is the physicians and medical professionals who treat GI (stomach) diseases and conditions but who might not be aware of GSID. The GSID AR app is free and available now for download in the Google Play™ store and Apple App Store.