Doctors and researchers have been searching for a cure for Parkinson's disease for many years. While a cure has eluded them, fast developing technology has helped doctors and patients track the symptoms and development of Parkinson's in the patient over time. Computers scientists from Johns Hopkins University teamed up with two other colleges to create a new tracking approach that uses smartphone sensors to generate a score that can reflect the severity of Parkinson's symptoms.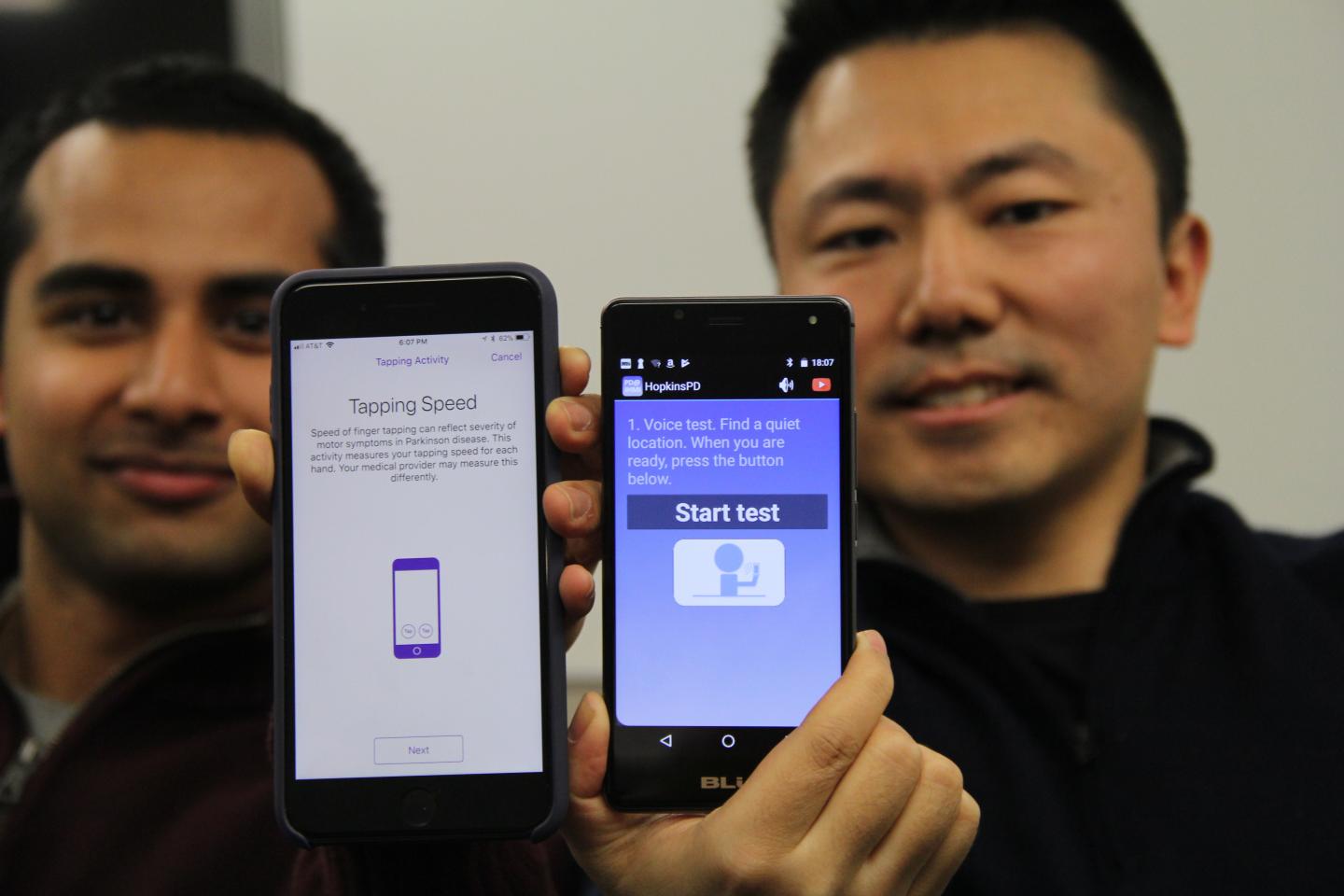 Johns Hopkins computer science students Srihari Mohan, left, and Andong Zahn, display the iPhone and Android smartphone apps they helped design. Source: Noam Finkelstein / Johns Hopkins
Johns Hopkins' Whiting School of Engineering teamed up with University of Rochester Medical Center and Aston University have found that the symptoms of Parkinson's patients studied by neurologists are aligned with the symptoms gathered by their smartphone app.
In the current medical method for tracking symptoms, Parkinson's patents are studied and evaluated by doctors during three or four annual visits. These visits involve individual assessments that can only gather a moment of a patient's symptoms that are constantly fluctuating. Patients are required to keep a 24-hour journal of their symptoms, which can be tiring and draining on top of dealing with the actual systems. Doctors can use these journals to help the patient find the right treatment, but it is difficult for the patient to deal with.
Researchers could use the newly developed smartphone app to monitor systems at all times. This data can be shared with doctors to help them find just the right treatment for their patients.
E. Ray Dorsey, University of Rochester Medical Center neurologist and co-author of the paper on the new app, says "If you think about it, it sounds crazy, but until these types of studies, we had very limited data on how these people function on Saturdays and Sundays because patients don't come to the clinic on Saturdays or Sundays. We also had very limited data about how people with Parkinson's do at two o'clock in the morning or 11 o'clock at night because, unless they're hospitalized, they're generally not being seen in clinics at those times."
Dorsey was introduced to Suchi Saria, assistant professor of computer science at Johns Hopkins and co-author of the study, six years ago. Saria is an expert in machine learning and has been using it for gathering health information in hospitals. These two researchers decided to team up to find a way to monitor the health of Parkinson's patients. Their goal was to make Parkinson's tracking just as easy as diabetes tracking.
With the smartphone components that already exist, like the microphone, touch screen and accelerometer, the team created five tasks, like voice sensing, finger tapping, gait measurement, balance and reaction time. The smartphone app is called "HopkinsPD." The team created their own machine learning technique that can convert the data collected with tests and turn it into a Parkinson's disease severity score.
The smartphone evaluation doesn't rely on a doctor or nurse to observe the patient's symptoms, making a diagnosis at home much more accessible.
"The day-to-day variability of Parkinson's symptoms is so high," Saria said. "If you happen to measure a patient at 5 p.m. today and then three months later, again at 5 p.m., how do you know that you didn't catch him at a good time the first time and at a bad time the second time?"
The researchers said, "A smartphone-derived severity score for Parkinson's disease is feasible and provides an objective measure of motor symptoms inside and outside the clinic that could be valuable for clinical care and therapeutic development."
In the study of the new app, Android devices were used but the team is currently partnering with Apple and SageBionetworks to develop a version for Apple's App Store. The app is currently available for download here. The paper on this research was published in JAMA Neurology.