Power Distribution, Inc. (PDI), a supplier of power distribution and monitoring solutions for data centers, has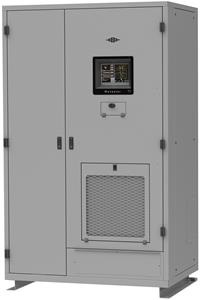 Source: Power Distribution, Inc.released its new WaveStar® TFA Static Transfer Switch (STS). Available in Q4 2017, the company's innovation is the industry's only true front access STS cabinet, offering an improved footprint, faster installation and increased worker safety during data center power maintenance procedures.
STSs facilitate uninterrupted power to a data center's electrical load, overcoming the unreliability of conventional electrical distribution systems by switching to a redundant power path in the event of a failure. Legacy STS designs present a maintenance safety dilemma as live electrical components that may need servicing are not separated from other areas. Too often, electrical arcs cause device damage, unplanned downtime or worse, and endanger a worker's safety. PDI has redesigned legacy STS devices by separating live electrical components into individual compartments, optimizing routine maintenance and simplifying installation and infrared scanning. The net result is a reduced Total Cost of Ownership (TCO) and improved reliability and availability.
Unique benefits of the WaveStar TFA Static Transfer Switch include:
• True Front Access — Front access for installation, service, maintenance and IR scanning.
• Compartmentalized Components — Molded case switches, controls, power semiconductors, primary and redundant fans — all contained in separate compartments.
• Optimized Top/Bottom Entry Exit — Molded case switch compartment is flipped for preference with a cable path for blended top and bottom entry/exit.
• Optimized Footprint — Front access allows for side-by-side deployment — eliminating side access.
• Enhanced Primary Systems Connectivity — Integrated cable pathway between STS and power distribution unit (PDU).
• Optimized Cooling — Air cool controls components and power semiconductors via integrated path.