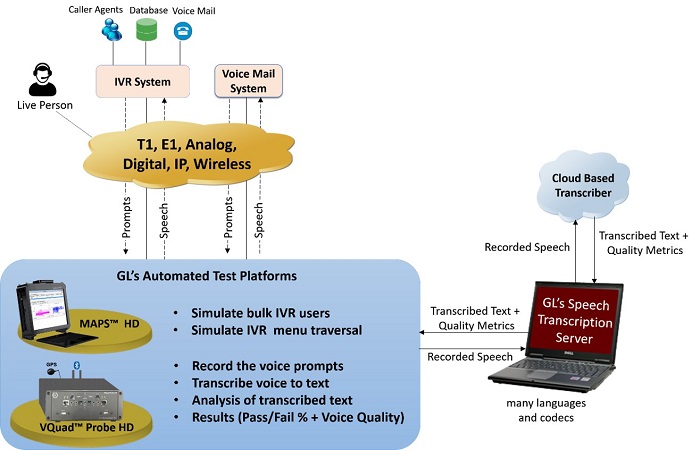 Speech Transcription Server in IVR System. Source: GL Communications Inc.
GL Communications Inc., a leader in telecom test and measurement solutions, has announced its new speech-to-text conversion utility referred to as Speech Transcription Server.
"GL's Speech Transcription Server (STS) is a Speech-to-Text conversion application that enables the translation of spoken language into text along with analysis of the transcribed speech," said Mr. Vijay Kulkarni, CEO of GL Communications. "Speech translation is performed on captured audio files in PCM or WAV formats. This application can be used for confirming voice prompts, testing interactive voice response (IVR) and voicemail (VM) systems, as well as voice transmission over any network."
STS is an automated PC-based speech-to-text conversion utility which can be used as a standalone utility or integrated with other GL test tools for automation, precise call control and quality analysis. STS supports REST APIs which allows the utility to be used with other GL intrusive test tools such as MAPS™ and VQuad™. One can send and receive transcription requests, as well as retrieve transcription results from a database.

MAPS™ provides a unique architecture for multi-interface, multi-protocol simulation, which makes it suitable for testing any core network, access network and interoperability functions. VQuad™ Probe HD is an all-in-one self-contained hardware supporting multiple physical interfaces for connecting to practically any wired or wireless network while automatically performing end-to-end voice and data testing over any network.
STS can also be used with GL's Voice Quality Testing solution to measure network voice quality, the effect of different codecs on speech transcription quality, and the effect of noise, echo, and bit error rate. STS supports various industry standard voice codecs – refer to Voice Codec webpage for more details.
Important features:
Ability to convert PCM or WAV files into text format
Supports multi-languages such as U.S./U.K. English, French, German, Italian, Japanese and many more
Cloud-based processing provides accurate translations (requires internet connectivity)
Monitor single or multiple folders containing audio files for automatic transcription
Each monitored folder can be configured for language and audio format
Full automation using VQuad scripting
Accurate analysis of transcribed text with quality (pass/fail) scores
Transcribe up to 30 seconds of speech files into text
Concurrent transcription of up to 30 voice files
Easy to access transcribed text via API or database
REST APIs support for transcription request and transcript retrieval
Base software includes 100,000 files transcriptions per year, validity can be extended with an annual support contract
Support for Windows® 7 and above