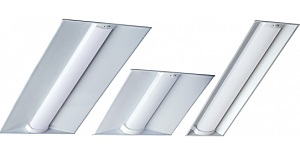 Cree's new ZR-C commercial troffer LED series. Image credit: Cree
Cree Inc. has expanded its ZR Series LED troffer family to include a line of commercial light emitting diodes (LEDs) with 130 lumens per watt and a reduction in energy saving of 70 percent.
Cree has also introduced ZR products for high efficiency and for boosted color accuracy in the ZR-FD High Efficiency and ZR-T TrueWhite LEDs. The new lighting products include Cree's SmartCast technology with advanced controls as an option to be included for customers.
Cree says the LEDs are up to 10 percent more efficient compared to other LEDs on the market and offer customers the ability to choose from what they need in a commercial setting for affordability, efficiency, color quality and control.