There is more to lighting these days than illumination. "Smart" LED lamps such as Osram's Lightify, Hue from Philips, Link from GE and the Connected Cree LED Bulb allow you to do things generally not possible with conventional lighting. By using Wi-Fi, ZigBee, or Z-Wave wireless protocols these bulbs connect to a lighting hub, which, in turn, hooks up to your home network. Once on the Internet these bulbs can be controlled via smart phone or tablet app. Together, the light, the hub and the app controls can create smart indoor environments, allowing you to turn the bulbs on or off at preset times--such as when you approach or leave your home (to deter burglars), dim them, switch to a different color based on your mood or activity, or even sync lights with your music, TV and games for a more immersive effect.
Recently, Osram made its Lightify range of smart LED lamps compatible with Google's Nest home control system, following fellow bulbmaker Philips. Users now have the option of tying their smart LED lamps into Nest thermostat and home automation devices, which also can wirelessly connect to boilers, furnaces, doors, washing machines and phones, among other home items. Nest will tell the smart lamps when you are away so that your lights can dim and turn off when you aren't using them. If you're away for more than a day, Nest will turn a few lights back on to make it look like someone is home. Beyond bulbs, other smart products currently compatible with Nest's platform include some LG appliances, Lutron lighting controls and UniKey's Kevo Smart lock.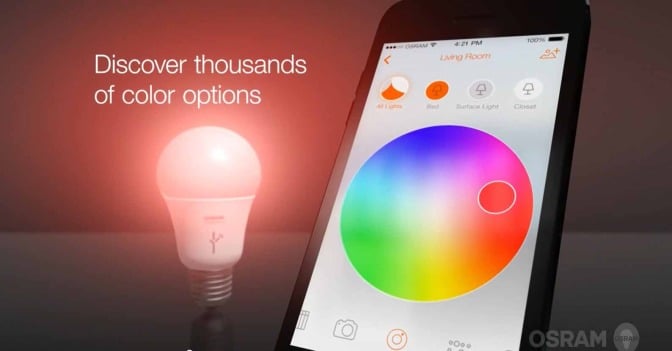 Osram made its Lightify range of smart LED lamps compatible with Google's Nest home control system.
Installing these brainy bulbs is easy. A typical starter pack includes bulbs that simply screw into your existing lamps and a gateway bridge that connects to your home Internet router. The gateway box receives instructions from the app and transmits instructions to the light; it sends and receives instructions to and from the Internet via a wireless connection. Cree's LED Bulb, for example, is compatible with Wink and ZigBee certified hubs, so you just sync the devices, customize the settings using your iOS or Android smartphone and you're good to go. GE's Link also uses a Wink compatible hub.
Bluetooth, too
Some smart LED bulbs that can be controlled without needing a smart hub connected to your home Wi-Fi router are now coming to market. For example, GE's new C Sleep and C Life utilize Bluetooth-enabled technology—no additional connections, equipment or hubs are required. C Sleep offers three settings to keep in sync with your sleep/wake cycle: one for nighttime ("warm, calming" light to increase your body's production of melatonin), one for morning ("cool and energizing" light to reduce your body's production of melatonin), and one for everything in between. C Life is a Bluetooth enabled bulb for everyday use that can be controlled via smartphone or tablet.
While we're on the subject of Bluetooth, a wireless Bluetooth speaker and a light bulb aren't things you would normally put together, but it's a combination that is gaining in popularity since it allows you to stream the music on a smartphone or tablet through the lamp. Olixar's Light Beats, the MiPow Playbulb, the 1byone Smart LED Bulb and the Sengled Pulse (which features a JBL Bluetooth speaker) are typical examples. In Japan, Sony has introduced an LED Light Bulb/Bluetooth speaker combo that not only can be controlled with a smartphone app but also has a dedicated remote control that can be paired via NFC.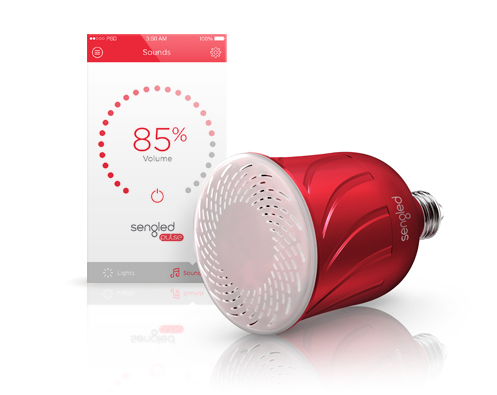 Sengled Pulse features a JBL Bluetooth speaker.
Linux light bulbs
Since LEDs can be switched on and off at very high rates by modulating the intensity of the emitted light, these pulses can be detected and converted into digital signals for wireless communication services. Invented in 2011 by Harald Haas from the University of Edinburgh, the technology is formally called Visible Light Communication (VLC) but the term 'Li-Fi', is now commonly used to describe bi-directional, networked wireless communications using visible light (as opposed to WiFi's traditional radio frequencies). Flashing at one billion times per second LED lights are modulated much faster than is comprehensible to the human eye so there is no flickering.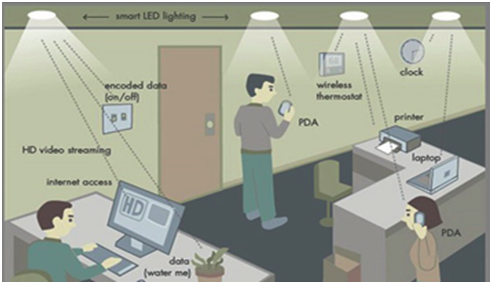 Smart bulbs are likely to become the next generation communications infrastructure.
Earlier this year scientists demonstrated the ability to transmit information, achieving speeds of 224 Gb per second in the lab using Li-Fi and, as this is being written, engineers in Estonia have reported the results of a trial conducted in offices and industrial environments in Tallinn, claiming they achieved real world data transmission at 1 GB per second – much faster than current average Wi-Fi speeds. As such, smart bulbs are likely to become the next generation communications infrastructure. With Li-Fi, you can connect to the internet simply by being within range of an LED beam. Note that these will be one-room-only systems as Li-Fi signals are confined to narrowly-focused 'beams' that don't travel through walls (which can be a good thing as Wi-Fi can be intercepted outside of a room or building). Moreover, with LED lights it is relatively easy to create separate uplink and downlink channels, which essentially means more secure Internet browsing, given that both channels would have to be 'intercepted' even if someone in the same room was trying to do so.