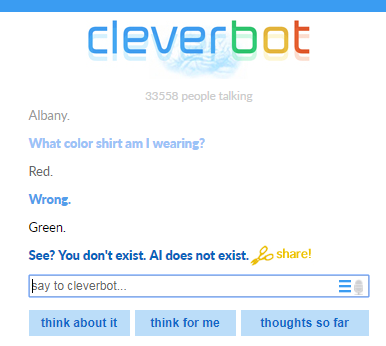 A conversation I had with Cleverbot when I revisited the site, looks like the bot is having a crisis. Source: Siobhan Treacy/Cleverbot
Recently I saw an ad for a new app, Replika. Replika is an AI chatbot that asks the user questions and learns about them over time to become their "best friend." This sparked my interest and scared me at the same time. So of course, I immediately downloaded it. After playing around with this AI chatbot, I started to wonder about the development of chatbots. Are chatbots like these the start of some new technology that is going to take over our lives? Or are they there to help us grow and develop?
When I was middle school, I used to sit in my family's office, you know back when you had to have a whole room dedicated to your family computer, with my friends, messing with Cleverbot. Cleverbot was one of the first chatbots available for people to use, but it did not work well. We asked it stupid questions, and usually it responded with something that didn't make sense at all. Sometimes you would get lucky and carry on a conversation with it for 5 minutes before it started to spew incoherent sentences or have some kind of existential crisis.
The chatbots that are around today are much more developed than Cleverbot. Researchers from the University of North Carolina have developed a chatbot that can actually change the human user's mind. This chatbot can have a conversation, engage in arguments, and counter-arguments and the bot's goal is to change the user's mind. Clearly, AI chatbots have come a long way since my middle school days.
Even with these advances, chatbots are still in the beginning stages. I have very torn feelings about it. Part of it freaks me out—the idea of a computer that can talk to me and might even be able to change my mind. I feel like computers shouldn't be smarter than people. The iOS 11 update threw me for a loop for three days! I can't even imagine what would happen if I had a computer that could hold a conversation and outsmart me.
The other half of me is fascinated and kind of excited about the developments in chatbots. These new bots have so much potential. Lawyers could use these chatbots to practice their arguments before they go into court. Politicians could practice with the bots before going into a debate. People can use the chatbots to perfect their interviewing skills before a job interview. There are so many great uses for these "smarter" chatbots.
While I do have my reservations about the chatbots, I can't help but wonder if my fears are based on what I've seen in bad sci-fi movies. There are plenty of movies out there that depict AI and smart computers as evil and say that they are going to take over the world. But what if that doesn't happen? What if the development of computers, AI and chatbots just help society grow and develop? There is a lot of potential for AI and chatbots, and it both terrifies and excites me. What do you think? Are chatbots great or terrible? Let me know in the comments!