If industry pundits are right, 2016 may well prove to be the year of the chatbot. These software platforms have become consumers' best friend, facilitating human-machine interactions using simulated speech to answer questions, perform tasks, and simply shoot the breeze.
One of the companies leading this trend is Cognitive Code, the maker of SILVIA, a rich, conversational, cross-platform intelligence system that promises to raise the bar for natural language processing. While SILVIA is not a speech-recognition technology, she does implement all the other components of natural language processing. Essentially, the platform takes human language input and creates a mathematical structure representing conceptual meanings, relationships, and statistical likelihoods. This enables SILVIA to dynamically, and sometimes proactively, interact with the user, enhancing third-party speech-recognition systems and opening the door for a broad range of applications.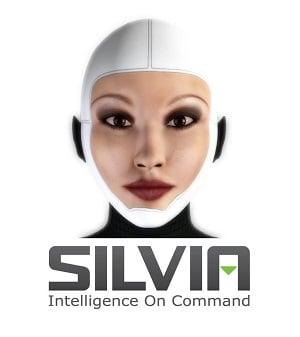 Cognitive Code's conversational artificial intelligence platform, SILVIA, promises to raise human-machine interactions to a new level not only by understanding natural language, context, and inferred implications but also by learning through experience. Image source: Cognitive Code.
"Because of her portability and suitability for almost any domain, you can expect to see SILVIA in various portable electronic devices, healthcare applications, and education, gaming, and augmented reality systems," says Leslie Spring, CEO and founder of Cognitive Code.
A Little Something Extra
SILVIA represents the latest stage of the evolution of chatbots, a process marked by the constant drive toward smarter, more natural verbal communication. Basic chatbots rely on the Artificial Intelligence Mark-Up Language to process language, but AIML-based runtime platforms simply take words as input, match them to patterns in their database, and output predefined phrases. Natural language processing sevices like Siri, Google Now, and Cortana have taken simulated speech interfaces to the next level, but their core technologies limit their performance. As consumers' expectations have grown, the shortcomings of these platforms have caused users and developers alike to look for something better.
As a result, developers have begun to empower platforms with artificial intelligence technologies that enable more sophisticated human-machine interactions via a natural form of conversation. Cognitive Code uses this approach, giving chatbot systems significantly greater functionality by shifting the emphasis from words to concepts. SILVIA takes speech input and converts it into a mathematical language, using her runtime engine to isolate words based on statistical relationships. This process conceptualizes meaning from input and dynamically generates output in something akin to a conversational tone. As a result, developers using SILVIA to implement speech-enabled applications do not have to populate the platform's database with every possible question and answer.
Nuts and Bolts
SILVIA derives her impressive capabilities from a combination of artificial intelligence technologies and development tools. These include a high-performance runtime engine, server, modular add-on component for processing voice inputs and outputs, and tools that allow programmers to create new applications and plug-in functionality.
The core component of SILVIA's technologies is her runtime engine. This software runs patented algorithms, processing user speech inputs in real time, converting higher-level application data into conceptual structures, inferring meaning, and generating natural language outputs for users.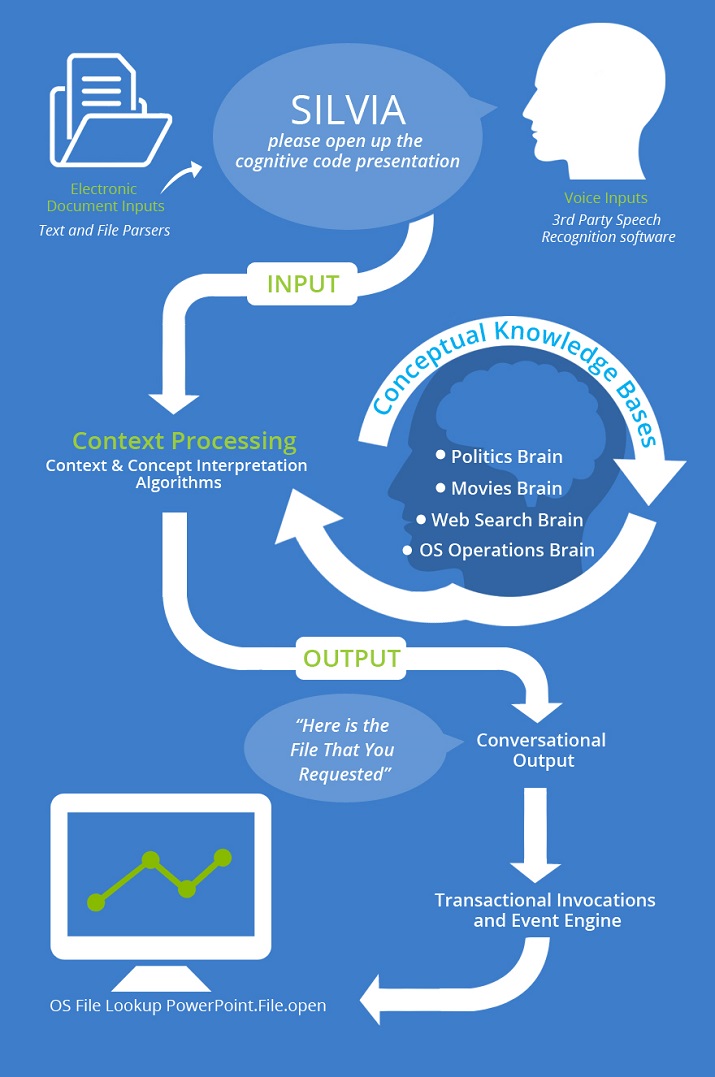 SILVIA combines a variety of natural language processing subsystems to create a rich, conversational intelligence platform that leverages existing and emerging speech-recognition technologies. Image source: Cognitive Code.
The runtime engine includes a subsystem called the inference engine. This component decides how to respond to or engage with the user and what activities to perform on the user's behalf, based on elements such as new inputs, internal data, application scripts, and conversational and logical context. Much of this decision-making is based on direct user input, but the inference engine can also be part of a proactive process that uses other factors to engage the user or execute transactions without user input.
To support more distributed services, SILVIA leverages its server, performing the functions of the runtime engine for large numbers of remote users in a managed server environment. This enables SILVIA to personalize individual user experiences via the Web.
Cognitive Code's platform also includes a variety of development tools that promise to pave the way for a greater role for the technology in the marketplace. Chief among these tools is SILVIA Studio, a graphical system for creating, editing, and publishing application content. This component includes embedded scripting and artificial intelligence behavior creation. Studio also hosts the runtime engine for easy interactions with and testing of content as it is developed.
In addition to the tools provided by Studio, Cognitive Code has tailored the platform's architecture to allow third-party developers to create customized plug-ins for their applications. This means that developers can extend SILVIA, connecting her to other software or hardware systems. The architecture also exposes new plug-ins and their functions to SILVIA's scripting and events in the Studio interface.
Differentiators
Pulling together these subsystems, SILVIA sports a number of features that set her apart from other artificial intelligence and speech-recognition systems. These differentiators offer a glimpse of the direction that chatbot technology is going.
One of the jewels in SILVIA's crown is her use of memory. Cognitive Code's platform not only remembers interactions and activities, but it also uses those memories to enhance the thought process. This capacity makes it possible for SILVIA to behave proactively, anticipating users' needs and surpassing chatbots limited to passive, narrowly defined programmed responses.
Another of the technology's strengths lies in its conceptual foundation. SILVIA learns language rules and usage from real-time statistical analysis of plain-text samples. As a result, her inference engine is concept-based and language independent. The statistical approach to language makes it easier for developers to create applications regardless of the language or dialect in which it operates, making SILVIA a real polyglot.
The same conceptual foundation allows SILVIA's inference engine to synthesize outputs based on conceptual goals, which ensures that the output is not only conceptually relevant but also lexically correct. As a result, SILVIA can express concepts in different but recognizable ways on a case-by-case basis, avoiding robotic and repetitive responses characteristic of simpler chatbots.
A design feature that makes SILVIA relevant to mobile and wearable applications is her ability to run natively on a device. Cognitive Code optimized the platform's architecture to run in real-time on individual computers and small devices. "We use an approach that keeps all of our data highly compressed, but we can quickly search and decompress that data at run-time on an as-needed basis," says Spring. "This means that we can have extensive conversational and behavioral application data and long-term ongoing relationships with users that use small amounts of on-device memory and storage. Also, the hybrid algorithms that we use to understand input and generate output are inherently lightweight.
Constant Change
As with all technologies in this arena, SILVIA is constantly evolving, both in its technology and its focus, with her developers continually redefining the technology. "We are always looking at ways to improve SILVIA, but we are now thinking less in terms of raw technology and more in terms of overall user experience, both from the perspective of developers and that of end-users," says Spring. "We are more aggressively pursuing integrating our developer experience with other tools, including gaming and VR technologies."