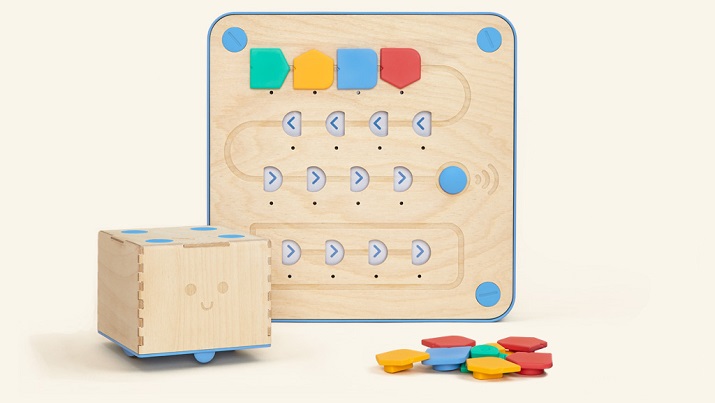 The Cubetto coding system. (Credit: Primo Toys)Cubetto is a toy that teaches kids how to code.
Without screens. Without Wi-Fi. Using hands-on blocks.
Created by British startup company Primo Toys, Cubetto's initial development was funded by Kickstarter in 2013. The company returned to the crowdfunding site three years later to seek funding for scaling the toy into rolling production; after setting a modest goal of $100,000, it garnered $1.59 million. And Primo has returned to Kickstarter again to fund the launch of new adventure packs "to make Cubetto's world bigger, brighter, bolder."
The project has already been funded – the $100,000 goal was raised in 3.5 hours – so that brighter world is on its way.
The approach involves a programming language created for kids, ages 3 and up. Similar to the influential Logo programming language that first appeared half a century ago, the language is expressed through the placement of coding blocks. When kids play with them, they're experimenting with programming logic.
Cubetto itself is the name for the smiling, battery-powered wooden robot that follows the kids' programming commands, which are based on Arduino code. Paired with Cubetto is an interface board that functions as a command line – when blocks are placed on it in sequence, a program is created. And it's all tied together with a cloth "world map" on which the robot moves, and a storybook full of progressive activities and challenges.
"When our children grow up, they will decide what to do for themselves. All we can do is give them the right tools to do so. We've always believed that empowering young girls and boys to create – and not just consume – with technology is a goal well worth supporting," said Filippo Yacob, co-founder and CEO of Primo Toys.
The toy, which has won numerous design awards, is child-centered and Montessori approved, encouraging free thinking, building resilience through feedback and social skills through problem-solving with friends.
Related: New Game Teaches Kids How to Build Their Own Mechanical Computer