San Diego, Calif.-based TruMed Systems has released its AccuVax® Vaccine Management System designed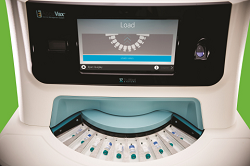 (Photo: Business Wire)to improve clinical efficiency, save nursing time, and reduce vaccine waste. The system also safeguards vaccine potency and helps protect against medical errors.
Lapses in handling can render a vaccine ineffective and may leave people unprotected or needing revaccination, according to the Centers for Disease Control and Prevention (CDC). Inventory losses due to power failure, improper storage and expired doses are common, and have created challenges for even the most advanced practices and health systems.
AccuVax offers key advantages over conventional vaccine refrigeration and storage practices. The system automates time-consuming storage, handling and documentation tasks. It also dramatically simplifies compliance with CDC guidelines, as well as the requirements of the federally funded vaccine program.
Specifically, AccuVax:
• Automates vaccine workflow and frees up nursing time to focus on patient care by replacing manual record keeping required to rotate stock, maintain supply and record temperatures;
• Electronically tracks all vaccine stock, allowing easier billing reconciliation, simplifying reordering, and virtually eliminating medical errors by preventing the dispensing and use of incorrect or expired vaccines;
• Protects vaccine integrity and helps ensure patients receive vaccine at optimal potency by eliminating the storage door, which with a traditional refrigerator exposes vaccine to fluctuating ambient temperatures;
• Eliminates costly inventory loss from power outage with at least nine hours of integrated battery backup and through 24/7 monitoring;
• Separates vaccine stock provided by publicly funded vaccination programs from those intended for private use;
• Secures vaccines in a fingerprint-accessed and controlled environment
Prior to its commercial launch, the AccuVax Vaccine Management System underwent rigorous testing and refinement in a 2-year pilot program to evaluate its real-world performance. All the sites participating in the pilot are now using the AccuVax system on an ongoing basis.