The U.S. Defense Advanced Research Projects Agency (DARPA) launched its Near Zero Power RF and Sensor Operations (N-ZERO) program to stimulate the development of event-driven sensing capabilities in which the sensor can remain dormant, with near-zero power consumption, until awakened by an external trigger or stimulus. The desired sensor detects a signature of infrared (IR) wavelengths characteristic of a hot tailpipe, a wood fire or even a human being, and can remain dormant and unattended but always alert, even for years, without drawing on battery power.
In accordance with these requirements, researchers from Northeastern University engineered infrared digitizing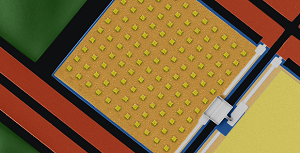 The micrograph features the multiple, wavelength-specific sensor patches that enable this N-ZERO device to capture infrared signatures of specific heat-emitting sources. Source: DARPAsensors that consist of plasmonically enhanced micromechanical photoswitches. The device consumes zero-standby power when specific IR wavelengths to be detected are not present. When wavelengths of interest impinge on the sensor, energy from the IR source heats the sensing elements and induces physical movement of key sensor components. Open circuits are then mechanically closed, indicating that the target IR signature is detected.
"The technology features multiple sensing elements—each tuned to absorb a specific IR wavelength. Together, these combine into complex logic circuits capable of analyzing IR spectrums, which opens the way for these sensors to not only detect IR energy in the environment but to specify if that energy derives from a fire, vehicle, person or some other IR source," said Troy Olsson, manager of DARPA's N-ZERO Program.
In addition to identifying specific ground vehicles or aircraft from their IR emissions, the new sensor technology could find a multitude of uses as the internet of things expands.