An origami-inspired delivery drone is designed to avoid obstacles and to be safely caught in mid-air by the recipient.
The craft uses a protective cage to encase the cargo before flight. The frame developed at the Swiss Federal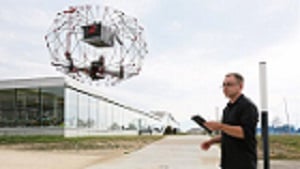 The origami-inspired drone. Source: EPFLInstitute of Technology in Lausanne (EPFL) can be folded and unfolded in a single movement. The entire structure can be flattened in a few seconds, reducing the drone's volume by 92 percent so that it can easily be slipped inside a backpack. A safety system stops the four propellers when the cage is opened.
Capable of vertical take-off and landing, the drone can carry a package weighing up to 500 grams over a distance of 2 kilometers. Self-flying software programs the delivery, and flight plans are produced to ensure avoidance of trees and buildings. A tablet or smartphone is used to track progress in real-time as the drone delivers its cargo and then returns on its own.
The drone contains specially designed self-flying software to program the delivery. A flight plan is created to ensure that it avoids obstacles such as trees and buildings. The drone can then be tracked in real time on a tablet or smartphone. And once the package has been delivered, the drone makes its way back on its own. The device also has a safety system to prevent it from being hacked.