Sure, drones fly. But what if they could fly like a bird, with all of its maneuverability and agility? That is just what Swiss researchers at the EPFL Technology Institute have tried to mimic by giving their drone feathers.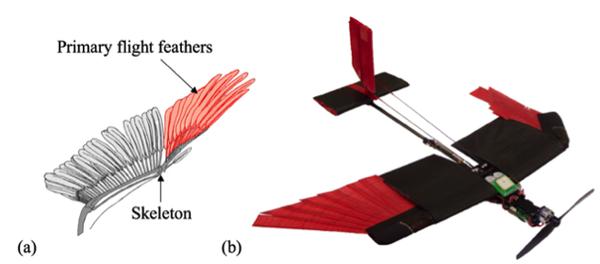 Aerodynamic features of the feather-winged drone. Credit: EPFL "We were inspired by birds; they can radically transform the size and shape of their wings, because they have an articulated skeleton that is controlled by muscles and covered in feathers that overlap when the wings are folded," said engineering researcher Matteo di Luca. "The drone also has feathers that it can fold and overlap like a fan."
After carefully observing birds in flight, researchers from the EPFL Laboratory of Intelligent Systems came up with the idea of building an energy-efficient winged drone capable of changing its wingspan, flying at high speed and moving through tight spaces. It had to be capable of flying between obstacles, making sharp turns and coping with strong winds.
To meet those criteria, the drone the team developed was fitted with maneuverable quill feathers that function just like the large quill feathers of a bird, located at the edge of the wing. The wing feature of the drone consists of artificial feathers made of fiberglass and covered in a durable nylon fabric, along with a lightweight carbon fiber shaft to increase the wing's strength.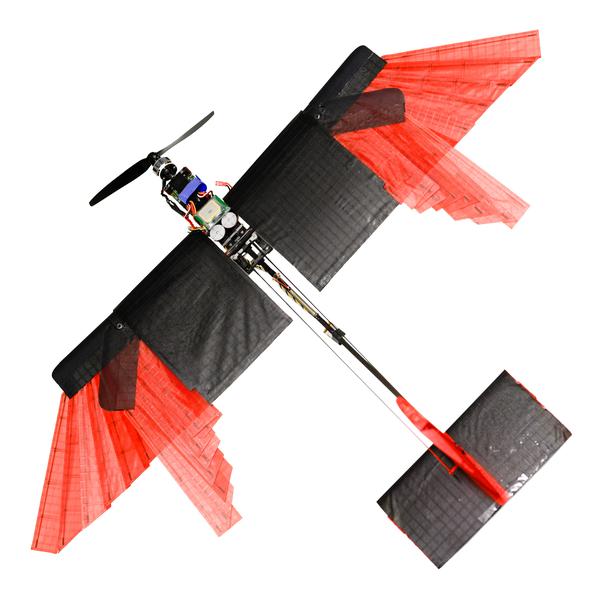 Feathered drone flies (almost) like a bird. Credit: EPFL The bird-inspired wings, which are designed with a unique folding mechanism, can spread or close during flight, making the drone easier to maneuver and more resistant in high winds.
"With the foldable wings, we discovered that we didn't need ailerons to help the drone turn. By changing the wingspan and surface area during flight, we could make it turn automatically," said research leader Dario Floreano, head of the Laboratory of Intelligent Systems.
The feather-winged drone's big aeronautical advantage over conventional drones is its ability to adapt to wind conditions. That could prove particularly valuable at low altitudes in urban environments where winds change rapidly, Floreano said.