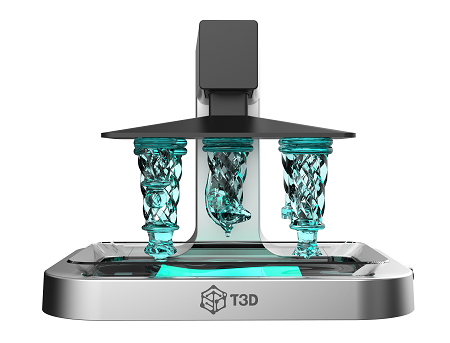 This 3D printer features an open air design so it prints from a smart device without a cover. Source: T3D
A new multi-color 3D printer is soon to be on the market that allows users to control designs through any mobile device, smartphone or tablet.
T3D has created a cheap 3D printer that enables open air printing for makers to have a view of the printing process first hand. A proprietary app allows makers, hobbyists and designers to access more than 5,800 3D models in the cloud.
The 3D printer is capable of printing designs in multi-color, has a flexible 360-degree 3D scanning module, is open air, meaning it prints directly from a smart device without a cover, and is open source for personalization.
T3D is slated to begin a Kickstarter campaign beginning on Sept. 19 with an early bird price of $169. It will retail for about $299.
The campaign's goal is to raise $85,000 with delivery of the printer in December of this year. To learn more about the Kickstarter campaign or the company, visit: www. http://myt3d.com/