There is an amazing amount of cool stuff out there for the taking that's being generated by inventors. Many of these inventors don't have the resources to go mainstream with their products but still want to show what they have developed to the world.
Enter Kickstarter and the ability to not just show off what they have invented, but get the funds necessary to hopefully take it to the world stage. While we can't cover everything that's new and amazing, here are a few of the items that still have an active campaign on the crowd-funding site that caught our eye.
Arsenal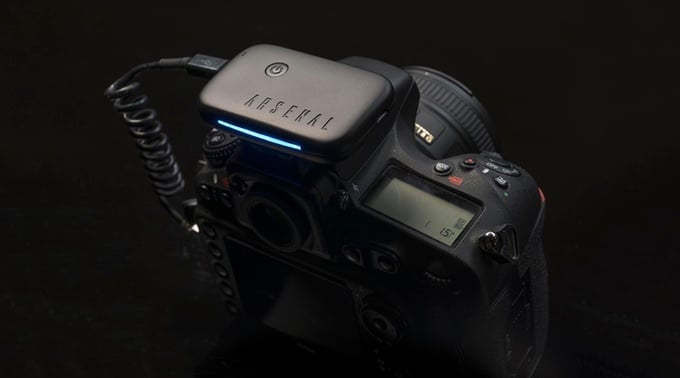 A gadget that helps determine the best photo settings and wirelessly take photos. Source: ArsenalHere's a gadget that lets you wirelessly control your digital still camera (DSC) with a iOS or Android app using machine learning algorithms in order to help take better pictures. Arsenal helps determine if the camera is on optimal settings for the scene. If not, it suggests different settings using 18 different environmental factors.
Once the photo is ready to go, the gadget allows you take the shot directly from your smartphone meaning you can set up the camera in one location and take the picture from another. The app also allows for review of the photos on a smartphone and to share the photos to social media instantly. It works with dozens of cameras from Canon, Nikon, Sony and Fuji and attaches via a USB cable.
To learn more about this gadget on Kickstarter, visit: https://www.kickstarter.com/projects/2092430307/arsenal-the-intelligent-camera-assistant-0
Aryzon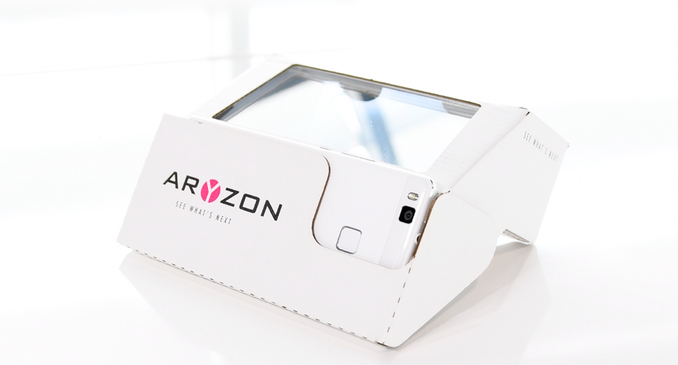 A cardboard augmented reality headset that costs $32. Source: AryzonBulky head units or uncomfortable glasses are a trademark of virtual and augmented reality. Cost is also a consideration with these devices running hundreds of dollars. Aryzon is looking to change that with its augmented reality device that is made of cardboard and uses a smartphone to power the images.
The cardboard gadget includes a stereoscopic lenses, mirror and combiner glass with the help of software to perceive and track a person's surroundings. The camera on the smartphone recognizes and tracks the provided radial target image and creates a link between the holographic image and the target image. The AR system works with any phone and can be used by anyone from consumers to professionals. And because it is made with simple materials, the set costs about $32.
For more information on this Kickstarter campaign, visit: https://www.kickstarter.com/projects/aryzon/aryzon-3d-augmented-reality-for-every-smartphone
Circuit Scribe DIY Electronic Kits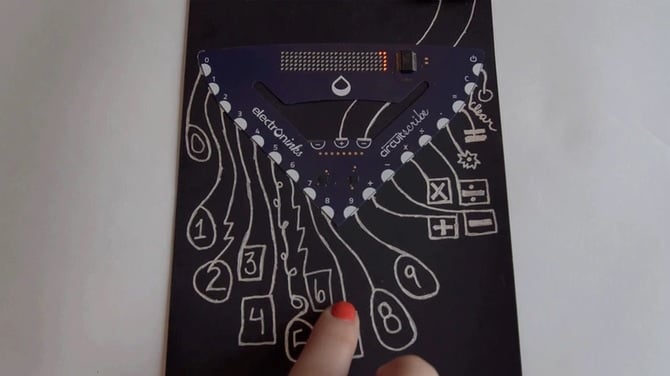 The calculator kit using conductive ink. Source: Electroninks This is a DIY electronic kit that is used to create paper-based electronics and DIY project kits using a pen that uses conductive ink to draw circuits by hand. The kits can be used for education, prototyping, electronic art and just for creating fun projects at home.
Electroninks Inc. is offering three kits including a DIY drone kit where users can create a 4-propeller paper drone using cardboard and conductive ink. It can be reconfigured to change the size of the drone or turn it into a flying paper airplane. The calculator kit allows users to create a calculator on a piece of paper using the conductive ink and an attachable module. The LiteWing kit allows for the creation of helicopter seeds that spin in the air with an LED on its wing and a coin cell battery on the base. Using the conductive ink, just connect the battery and toss it in the air.
To learn more about this Kickstarter project, visit: https://www.kickstarter.com/projects/electroninks/circuit-scribe-diy-electronic-kits
Mixxtape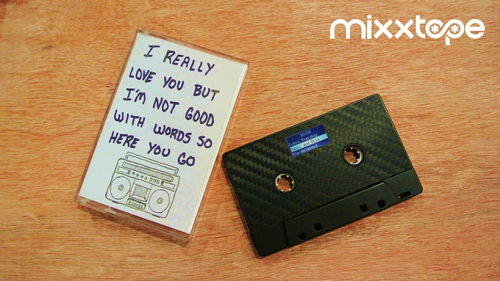 A functional music player in the form of a cassette tape that actually plays in tape decks. Source: Mixxim Looking to go old school with your music playing ability? Mixxtape by Mixxim is a fully functional music player that looks and plays like a cassette tape but with a number of bells and whistles your old tapes could never, ever do. Headphones can be directly jacked into the cassette and it features Bluetooth to play music to any number of portable speakers. The LED display allows you to cycle through whatever song you want to play, there is touch navigation and a memory card for uploading new music to via a microUSB port.
Plus, maybe the coolest thing is that it actually plays in old school cassette players. That's right, in case you still have one lying around your dusty attic, the cassette will play in most standard tape decks.
Learn more about this Kickstarter by visiting: https://www.kickstarter.com/projects/mixxtape/mixxtape-the-cassette-reinvented
LittleBot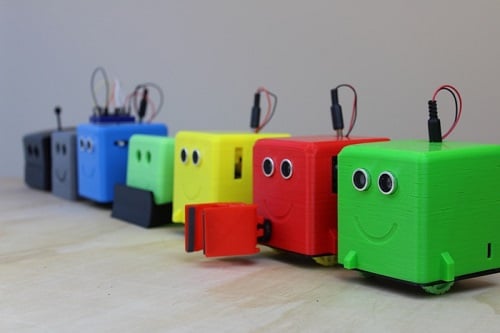 3-D printed robots can be controlled and programmed easily for STEAM students. Source: Slant RoboticsStudies have shown that early learning of robotics is key to kids being interested in science, technology, electronics, art and math (STEAM) projects. Slant Robotics is looking to make this process affordable and fun with its LittleBot. The robotic toy comes as a creation kit meant to give kids the tools to create a cool, tiny robot that can move and pick up objects using a tablet.
The robot is made from 3-D printed materials and is Arduino based that can be programmed, easily put together and is fully autonomous. It also includes obstacle avoidance, follows walls and even can fight with other LittleBots. Because it is Arduino based, the bot can also be expanded upon so students or makers can create new sensors or circuits and graft them to the bot. The DIY kit for the LittleBot starts at $49 but you can also buy pre-3-D printed versions for slightly more.
Learn more about this Kickstarter campaign by visiting: https://www.kickstarter.com/projects/slantrobotics/littlebot-a-fun-arduino-robot-for-students-and-beg
Biki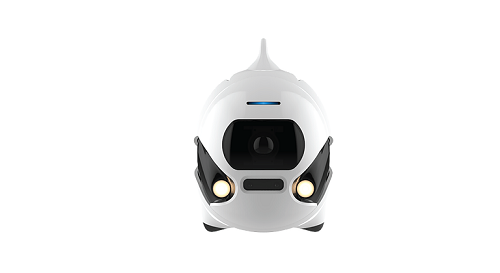 A submersible drone with auto balance and a 4K camera. Source: RoboseaBilled as the first bionic wireless underwater fish drone, Biki is an automated submersible that features auto balance, obstacle avoidance and return to base functionality. With a 4K camera, Biki gives users the ability to take video or photos of family, underwater environments or discover where a lair of fish by reside to dip your fishing pole.
The drone includes a camera stabilizer for better video, two 114 lumen lights, 90 to 120 minutes of video storage and 32GB of internal memory. It has a maximum depth of 196 feet and is silent enough not to disrupt marine life. While the drone costs over a $1,000 normally, the Kickstarter campaign is offering it for $599.
To learn more about this Kickstarter, visit: https://www.kickstarter.com/projects/1114649432/biki-first-bionic-wireless-underwater-fish-drone
BuildOne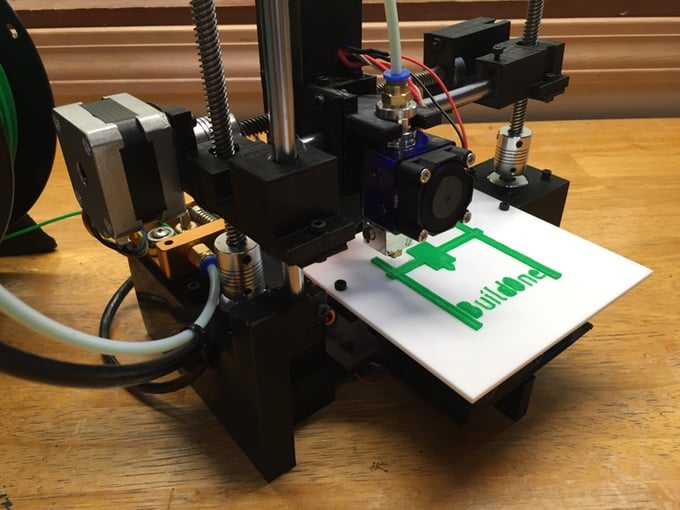 A $99 3-D printer with auto bed leveling and WiFi. Source: Robotic Industries One of the main issues with the adoption of 3-D printing is the cost of the actual device. Robotic Industries LLC is looking to change that with its BuildOne printer that only costs $99.
Made with professionally designed parts and a single piece base, the 3-D printer includes support for mobile phones, features auto bed leveling and includes Wi-Fi. Other features include auto calibration, LED status, panic button to interrupt the process and includes affordable add-ons such as a PEI bed, OLED screen, joystick control, heated bed for printing with ABS and a carrying case to make it portable.
To learn more about this Kickstarter campaign, visit: https://www.kickstarter.com/projects/robotic-industries/buildone-99-3d-printer-w-wifi-and-auto-bed-levelin