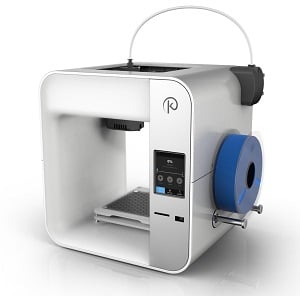 The Obsidian 3-D printer. Image credit: Kodama San Francisco printing start-up Kodama has introduced a new 3-D printer designed for use by professionals priced at under $100.
The Obsidian printer allows consumers and professionals to experience 3-D printing functionality with layer thickness between 50 to 350 microns.
Priced at $99, the Obsidian printer comes fully assembled and print jobs can be started within a few minutes of installation, Kodama says. The printer includes a smart display for UX designers and app control to be run through an Android phone to remotely monitor and adjust printer settings as well as recording time lapses and prompts telling users when a job is complete.
Other features include compatibility with most filaments and the ability to print with ABS, PETG and other filament types via the heated bed. Kodama is offering Obsidian PLA formed from volcanic crystal containing real crushed powder stones.
Kodama plans to launch a Kickstarter campaign for the printer beginning in June and will be offering early bird deals for $49 for the basic version of the printer. The 3-D printer will also be shown at the upcoming Maker Faire Bay Area, taking place May 19-21 in San Mateo, Calif.