The Goodyear Tire & Rubber Company is partnering with Tesloop, a city-to-city mobility service that exclusively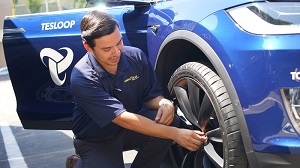 Goodyear Tire & Rubber Company is equipping Tesloop's Tesla electric vehicle tires with wireless sensors. Source: Goodyear Tire & Rubber Company uses Tesla electric vehicles, to test intelligent tires. Wireless sensors will be integrated into tires to help improve overall tire management and maximize uptime for its growing fleet.
The sensors continuously measure and record tire temperature and pressure. These measurements are combined with other vehicle data and connected to Goodyear's cloud-based proprietary algorithms to enhance overall fleet operations and predict when the tires need service or replacement.
Goodyear is also extending its mobile fleet solutions to passenger vehicles, providing tire maintenance and repair while Tesloop vehicles are at charging stations during regularly planned downtime. The company is also working with automakers to provide tire information to vehicle control systems to enhance safety and performance.
Tesloop operates a fleet of Teslas that average up to 17,000 miles per vehicle, per month. Its highest-mileage vehicle, a Tesla Model S, in operation since 2015, recently exceeded 300,000 service miles. Goodyear has been working with Tesloop since January 2017 to study the effect of autonomous technologies on tires.