HUDWAY has joined efforts with Carrobot company to create the HUDWAY Cast, a portable heads-up display for cars that enables drivers to get directions, receive calls and texts and control music in a safer and easier way. The HUDWAY Cast works wirelessly with iOS and Android devices. The directions are always in the user's line of sight, and the phone is a quick-access control panel.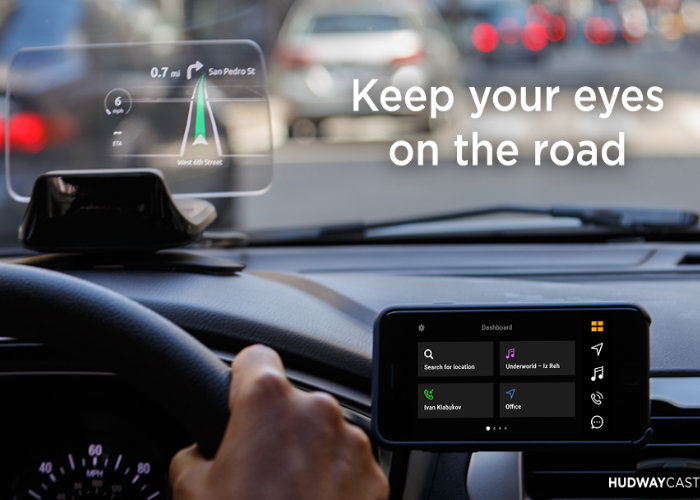 The HUDWAY Cast Head Up Display (HUDWAY)
A head-up display (HUD) allows drivers to see directions and other navigation information in front of their eyes with minimal distractions from the action on the road. HUDs are mostly used as a premium built-in option for luxury cars. These HUDs are programmed to display a limited set of information that is preset by the manufacturer. Chances are drivers will still have to use their smartphones for navigation. Using a smartphone as a navigation device blocks the driver's view or distracts the driver; the smartphone takes drivers' eyes off the road, reduces visual scan and increases cognitive load.
The HUDWAY Cast is an external smartphone display that is bright, transparent and driving-oriented. The image from the HUDWAY Cast display is taken to a lens that enlarges it to 20" and focuses the image 9', or 2.8 meters, in front of the driver. It is easier for the eyes to readjust from the road to the HUD. And it is less expensive than the built-in HUDs found in luxury vehicles.
The HUDWAY display is 20 times brighter than a smartphone and has a full-color projection, even in sunny conditions, on a transparent lens. The display brightens and dims automatically and the projection quality doesn't depend on how bright the driver's smartphone screen is.
To install HUDWAY CAST, all drivers have to do is attach it to the dashboard and plug it into the cigarette lighter in their car. It is easy to detach and store in the glove compartment when they leave the car.
The display wirelessly connects to any smartphone that supports Miracast or Airplay. This means that almost all modern smartphones have been paired with this device. Users can launch navigations app on their smartphones, select it to stream it to HUDWAY Cast and then it's up and running. Users can also connect their smartphone to HUDWAY Cast.
The HUDWAY Cast app allows users to access the most needed smartphone functions in a driving-friendly way. This makes using the smartphone behind the wheel safer and less distracting. Drivers mount their phones on a magnetic holder where the driver can comfortably reach it and make quick swipes and taps to answer calls, send quick messages, share locations or switch songs.
The app relies on peripheral eyesight and keeps the driver's eyes on the road as much as possible. The dashboard feature allows drivers to quickly view and manage basic things like phone calls, smart navigation suggestions, location search, music and any preferred widgets. Drivers enter their destination in the HUDWAY Cast navigation feature and the HUD will guide drivers with offline maps, traffic info, and an uncluttered route view. Drivers will always see directions on the heads-up display, even if the driver uses the phone to handle calls or switch songs. Drivers can accept or dismiss calls with swipes. They can also make calls choosing from a list of favorites or recent calls on the smartphone display. HUDWAY Cast also allows drivers to listen to a received message, reply with a voice message, reply with a quick template message, and share location and ETA. The music feature allows drivers to manage their music library or streaming services with quick swipes or taps. These features may depend on if drivers have an Apple or Android smartphone due to Apple keeps a lot of things private.
The HUDWAY Cast is 15.4 cm x 10.1 cm with a height of 4 cm. The lens size is 16.2 cm x 9.2 cm. The HUDWAY Cast box comes with a lens cover, the HUDWAY Cast, a dash mount, metal plate, magnetic phone mount, cigarette lighter cable, a quick start guide and a warranty.
HUDWAY Cast launched on Kickstarter in August 2017 and ends on September 28. They have $311,490 of their $100,000 goal. Depending on how much they donate, donors can receive one HUDWAY Cast for $179, up to a fleet pack of 10 HUDWAY Cast devices for $1,590. After the Kickstarter ends, mass production will start in October 2017 and the HUDWAY Casts will ship to backers in November 2017.