While augmented reality (AR) technology has been in development for years, it recently gained mainstream attention with the release of Pokémon Go, the smartphone gaming app, in the summer of 2017. Since that time, an explosion of AR applications has occurred, using both a smartphone or dedicated goggles, in markets such as consumer electronics and gaming, healthcare, criminal justice, industrial, construction and automotive.
In the automotive space, navigation is considered the most obvious and practical use case for AR. However, third-party developers and automotive OEMs are still working out an ideal form factor for automotive AR.
Current approaches to AR typically take three forms. The first approach is to include AR built into a heads-up display (HUD), a natural extension of a vehicle's typical display. The second is a third-party aftermarket device that drivers buy and place in their vehicle. The third is a smartphone app that generates mixed-reality content on the phone for navigation or other uses.
While integrating AR into a HUD seems like the most compelling option, it can come with its own challenges, Brian Rhodes, analyst for automotive technology at IHS Markit, told Electronics360.
"The biggest issue today is when we increase the size of the image to the driver, we increase the size of the HUD in the vehicle and that is what automakers are struggling with," Rhodes said. "That's the huge technical breakthrough for AR in vehicles to gain widespread adoption."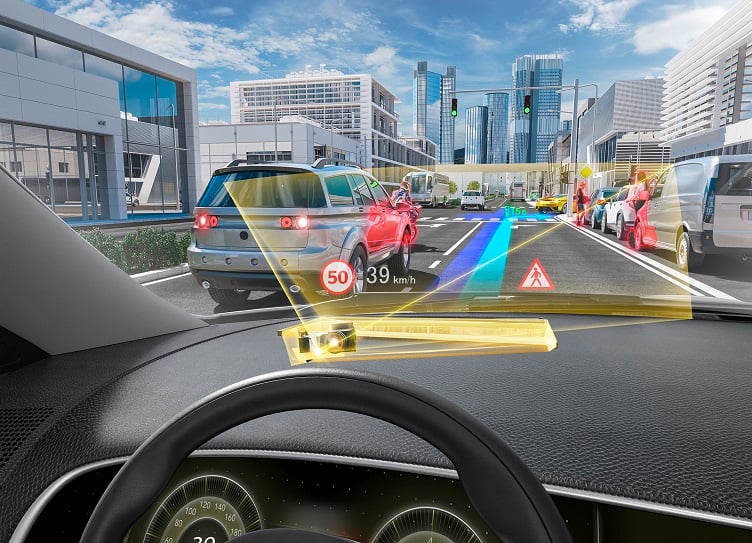 Continental is currently developing an ultra-compact AR-HUD for future vehicles. Source: Continental While in development for a number of years, Rhodes said AR in vehicles may become a reality sooner rather than later. He said drivers may only be a few months away from seeing an OEM device coming onto the market. IHS Markit forecasts that AR-HUD production will begin in 2019 and will rise to one million units by 2026, first appearing in luxury brands and eventually trickling down to other automotive car segments.
While Rhodes did not name the companies that may introduce these HUDs, Continental AG announced it was developing ultra-compact AR-HUDs using holographic waveguide technology that doubles the field of view but does not increase the size of the display. The technology uses mirrors to direct and magnify the images in the HUD, reducing the hardware and volume in the vertical axis.
The upcoming CES 2019 trade show will likely unveil more efforts from developers announcing future AR HUD devices. Last year's show saw Panasonic, Visteon, Harman, Continental and others introduce HUDs with AR elements.
Smartphone AR in Vehicles
Startup Phiar Technologies Inc. is going the smartphone app route to provide AR for vehicles, partly due to challenges with HUDs. Phiar, which recently raised $3 million in seed round funding for its app, said new technology in the automotive space generally takes years to develop and the aftermarket HUD segment is generally expensive, making a compelling case for smartphone apps in AR.
"The smartphone is the device that everyone already has, and, most importantly, already uses for navigation," said Chen-Ping Yu, co-founder and CEO of Phiar. "The phone is typically mounted in a way that the camera is facing out and the display is facing the driver, therefore we don't need to change user behavior when it's on the phone, and also we can make it free to download so it's much easier for user adoption."
Yu added that this is also gets AR to market faster than HUD and in-car windshield projector development.
While Phiar has no plans to enter the HUD aftermarket segment, it does plan to work with Tier 1 automotive suppliers and car makers on software for in-car windshield projectors, which Yu acknowledged is going to take some time due to the longevity of product cycles as well as safety concerns.
Yu said the company plans to introduce its smartphone AR vehicle app in 2019.
Beyond Navigation
Traditional AR in HUDs shows features such as current speed, navigation and sometimes media or music within the driver's view. In the future, AR in vehicles may include some type of advanced driver assistance system (ADAS) capabilities such as highlighting pedestrians, collision warnings or driver monitoring systems to help drivers stay awake and aware.
However, Rhodes said this is more complex than just navigation. OEMs would require the testing of safety systems, and in some cases the new AR features would require new regulations. Both would require more time and resources to roll out.
"Plus, this requires high quality forward cameras for object detection and a system that can work with all drivers, at all heights to know where the driver is looking from in order to highlight objects on the road," Rhodes said.
Eventually, this technology may be ported to an in-car windshield projector or HUD where the navigation and other ADAS information is integrated directly into the forward view of the driver. But this is probably not coming for a number of years, Rhodes said.