With electronics part of almost every modern automotive system, the overall market for vehicle electronic components is forecast to grow to $239 billion in 2020 from $157 billion at the beginning of the decade, according to the 2013 IHS report "The World Market for Automotive OEM Electronic Systems." Within those figures, the market for head-up displays (HUDs)—which project information on a separate clear screen or the windshield in front of the driver—is projected to grow by an average annual figure of 24 percent, to $1.7 billion (0.71 percent of total market value) from $203 million (0.13 percent) in 2010. The bottom line: The "fitment rate" for HUDs will likely to go from 1 percent of new vehicles in 2010 to about 9 percent in 2020.
Head-up displays were first developed for military aircraft to convey information to a pilot while allowing "eyes out of the cockpit," and improving situational awareness. As with anti-lock brakes (first called anti-skid in their military use), automotive designers borrowed the concept for greater safety by keeping drivers' vision more on the road and reducing the need to scan the instrument cluster.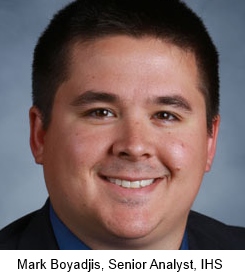 General Motors first introduced automotive HUDs in 1988, but these did not sell well because of a combination of cost and technology concerns, according to Mark Boyadjis, a senior analyst at IHS Automotive for infotainment and HMI systems. "First was the cost of the projection, mirror, and [screen] film technology in the package," he notes. In addition, the physical size of the HUD system was a challenge to fit within the existing dash systems, including the steering column. Finally, the benefit to the user did not justify the cost, Boyadjis says, with there not being enough "feature rich" content on the monochrome displays. Available content is still an issue that may affect adoption of today's lower cost, more compact, color-capable systems, he adds.
GM's Davide Silvestri, engineering group manager for controls and audio systems, notes since the first HUDs, technology iterations have driven down the cost and optimized integration. For example, "We learned from our early generation HUDs that using actual windshield surface math data [surface point coordinates] instead of 'blueprints' provided more accurate surface measurement and a much higher quality 'information read,' " Silvestri said.
A head-up display projects an image that is focused around 8 feet (2.5 meters) ahead of a driver, allowing recognition with minimal eye refocusing from distance viewing. There are two types of units—ones which use a separate transparent "combiner" screen to display images and "projection" types where the image is projected on the windshield itself.
Typically, a high-resolution TFT-LCD display image, driven by high-intensity, multi-color LEDs, is positioned by mirrors to "float' in the driver's field of vision. Ambient light sensors and modern high-power processors compensate for quickly changing lighting levels, such as when entering or leaving a tunnel.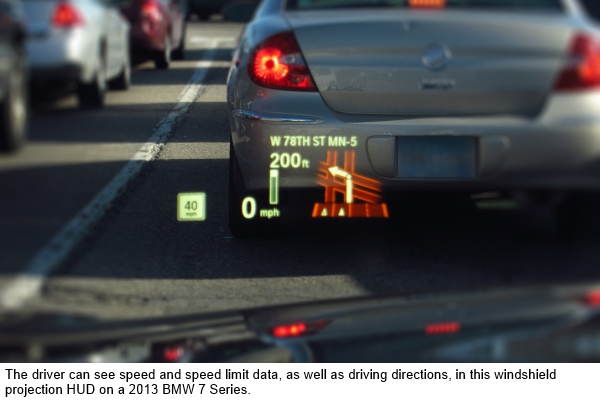 In contrasting the pros and cons of both HUD types, it comes down to cost and potential content, according to Boyadjis. Combiner types are smaller and cheaper than projection, he notes, with sharper image granularity. These should see greater growth in adoption because the same unit, not dependent on windshield shape, could be installed in many car models.
For example, Boyadjis reports that in Europe, a Johnson Controls combiner display for showing speed and navigation data has a 70-80 percent take rate in the Peugeot and Citroën models in which it is offered as part of an economical options package. Combiners today account for roughly one third the HUD market but are estimated to grow to about 60 percent by 2020, thanks to their cost advantage.
Windshield projection HUDs require tailoring to optimize use for specific vehicles, tending to drive up initial cost. But GM's Silvestri said windshield math data is now available early in vehicle development to accommodate variations in vehicles. Also, he said, further technical improvements, including advanced optics and higher-resolution displays are aided by polyvinyl butyral "wedges" (thicker at the bottom) used to mitigate internal reflections in the windshield "glass" that produced ghosting (double images) in the first HUDs.
As for the potential problem of a driver wearing polarized sunglasses being able to see an adequately bright image on a windshield HUD, "We design our HUDs to compensate as much as possible for the polarizing effect off of the windshield," Silvestri said. The exact method of accommodating polarized glasses is "internal to GM," but optics experts say by using a polarization rotator (also called a wave plate) it is fairly straightforward to polarize the image to accommodate the direction of polarization in sunglasses.
Display images using TFT technology are polarized, but use of DLP (digital light projection) chips, such as those from Texas Instruments, could further ease the problem, says Patrick Nebout, director of product and business development for driver information electronics at Johnson Controls.
IHS's Boyadjis feels windshield projection HUDs have greater potential for innovation—including introduction of augmented reality (AR) features. Projection allows for a wider field of view, he notes, thus the potential for such AR uses as overlaying arrows for an upcoming lane change, or exit directions from the navigation system, or traffic signs—even eventually calling up gas prices at stations ahead, nearby restaurant locations, and traffic advisories. Sophisticated processing, however, would be needed in order to give the driver requested information without compromising safety with sensory overload.
Projection image processing algorithms can allow minimizing image distortion on individual vehicle model windscreens, thus requiring only a software change for use in different car models. DLP mirror chips, and perhaps lasers in the future, can accommodate brighter images on greater windshield real estate—thus eventually becoming large enough to "fill" the windscreen for AR applications such as pedestrian and blind-spot warnings, and night-vision image overlays.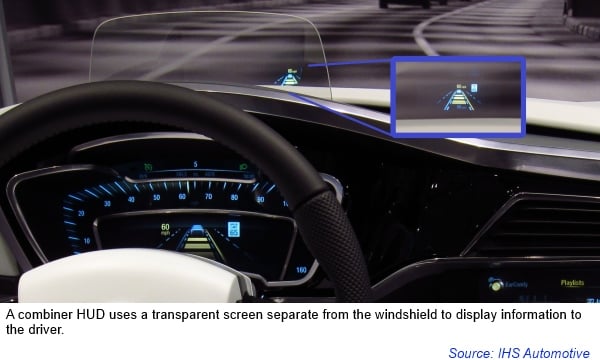 As for whether more drivers will be adopting HUDs, IHS's Boyadjis feels they will remain optional in higher end "volume" vehicles. The displays will see higher rates of adoption if they are not too expensive within an option package, he said. "They may be standardized in the luxury market, but that is not a volume market," Boyadjis said.
However, the projected availability of augmented reality content around the middle of the decade could be a game changer, Boyadjis said, leading to an upswing in HUD installations if drivers perceive utility and other advantages to the technology, and if it is done in a way that is easy to use and understand, with an intuitive interface.
"Augmented reality in vision enhances what you are looking at," says Boyadjis, and could show features and objects that are difficult to see. In addition to features noted previously, applications could include—depending on the field of view—highlighting roadway markings under foggy or rainy conditions, or "lighting up" the location of a pedestrian that sensor systems perceive as moving into the path of the car. Such safety uses would probably be the first AR features, with concierge-type services (gas prices, restaurant type and seating availability, etc.) coming later. "The technology to do it [AR] is here," Boyadjis said, "but the biggest challenge for AR is the availability of robust content with information presented in easily 'digested' cues. In the longer term, 10 to 15 years, we could then eventually see wide-field-of-view HUD technology replacing the center-dash stack."

But HUDs and their adoption might be affected, positively or negatively, by "leapfrog" technology with the advent of personal vision concepts such as Google Glass. Might a driver be able to use a display on these instead of an automotive HUD?
IHS's Boyadjis says many stakeholders, from technology developers to lawmakers, are trying to understand the implications of those devices. His best guess is that such glasses will becomeanalogous in operation to another personal, mobile device—the smartphone.
Much as with a phone's navigation or calling features, these devices can be integrated with the vehicle's infotainment system, enabling drivers want to put down their glasses and use in-car displays for both integrated-glasses and vehicle features.

GM's Silvestri does not expect Google Glass to superse HUDs because they are basically different technologies. The glasses' images are "conformal" in that they move as the head moves, whereas HUD images are fixed "ahead" of the vehicle—where an attentive driver has, or should have, his or her field of view, he said.
Nebout from Johnson Controls feels such glasses, being a consumer-grade product, cannot replace automotive-grade display electronics—unless the consumer takes responsibility for any increased risk.
However, in a parting shot possibly aimed at disrupting such disruptive technology, and only half facetiously, IHS's Boyadjis said it may all be moot if by then we have autonomous cars.
Related stories: