Consumer Electronics
Tools, Tips and Tricks: Logo Engraving 101
01 September 2017
Sponsored content
Most logos print beautifully with a laser. Logos with small, fine details come out clear and precise. The main reason logos are engraved is for branding. When creating any kind of product, laser engraving can be an easy, clear way to display a logo.
There are many uses for laser engraving a logo. Beer companies, for example, can engrave their brewery logo onto their growlers. Indie brands can engrave their logos onto wooden napkin rings. Restaurants can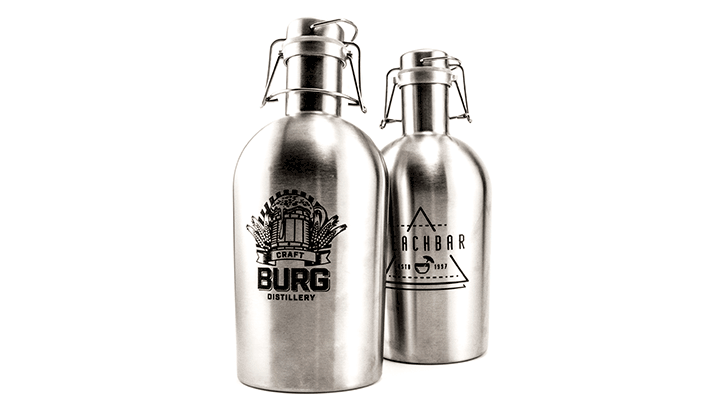 Growlers with laser engraved logos. Source: Epilog Laserlaser engrave their names onto slate coasters. Any entity from the largest to smallest of businesses can use laser engraving to get their brand more visibility.
The most important considerations when laser engraving are the resolution of the photo being engraved and the medium being engraved. The quality of the artwork sent to the laser can have a bigger impact on the final product than the actual engraving resolution. If the user sends low-quality artwork to the laser, even the highest resolution setting on the laser cannot improve it. But quality is subjective. For some images, 300 DPI is fine, while 600 DPI could be the minimum quality for others.
While resolution plays a big part in producing a high-quality image, the artwork that will be engraved is also important. If the artwork is of low quality, even a 600 DPI resolution won't improve it. Therefore, it's critical to always start with a high-resolution image.
Epilog Laser prefers vector-based graphic design software when engraving logos. Among the types recommended by Epilog are programs like CorelDRAW, Adobe Illustrator, AutoCAD or any other vector-based software. "Raster" refers to the engraving of images, graphics and text and "vector" is used to describe cutting. Vector graphic design software allows a user to set line widths, and depending on the line width, the laser will recognize the line as a raster or a vector. With Epilog's lasers, any line with a width of 0.001 in. or more will be a vector cut.
Most engraving files are greyscale/black and white. When using Epilog's color mapping feature to engrave a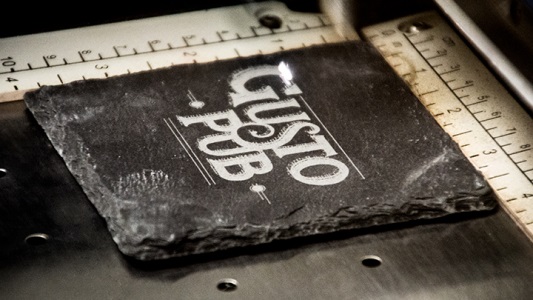 Slate coaster with laser engraved logo. Source: Epilog Laserlogo, it is important to make sure the file is in RGB mode instead of CMYK. The Color Mapping feature allows the user to set engraving and cutting settings to different colors within the artwork in both raster and vector modes. The main uses for these modes are: using different colors to engrave at different speeds and powers within one document, and using different colors to allow users to sequence the order that objects will be marked. Using the RGB color scheme in the artwork with the Color Mapping feature is required because CMYK values will not translate.
Testing material before starting to engrave the product is another important step when engraving logos, no matter the size of your run. Before starting, ensure that the speed and power settings will produce the desired results. Although mass-produced laserable items are fairly consistent, it is almost impossible for every engraving to be 100 percent identical. This is especially true with organic materials.
Hopefully, this article has shared some helpful tips and tricks to consider the next time you find yourself laser-engraving a logo for your company, or others.
Find Free Electronics Datasheets