Epilog Laser has added the Pro 24 and Pro 36 to the Fusion Pro Laser Series. The Fusion Pro 24 features a 24 inch x 24 inch (609 mm x 609 mm) engraving table, and is available with a carbon dioxide laser source, a fiber laser source or as a dual CO2 and fiber laser configuration. The Fusion Pro 36 features a 36 inch x 24 inch (914 mm x 609 mm) engraving table and is available with a CO2 laser source or as a CO2 and fiber dual-source machine.
The new systems also include Epilog's IRIS Camera System, which allows users to position artwork and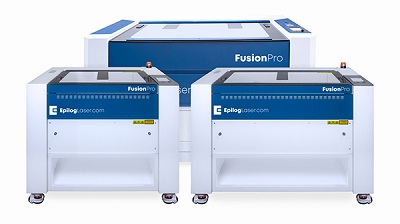 Source: Epilog Lasergraphics quickly and accurately by providing a real-time image of the engraving bed.
A drop-down front door affords easy access to the engraving table from the front of the machine, and the configurable table supports use of a vector cutting grid, engraving task plate or vector cutting slats. Select between jobs, auto focus the laser and rerun jobs at the touch of a button from the easy-to-use touch screen interface right at the laser.
Make laser engraved treats for Thanksgiving — or any occasion — with the 80 W Fusion Pro 24. Note that artistic results will vary based on the water and sugar content of the pies, as well as how flat the working surface area is.