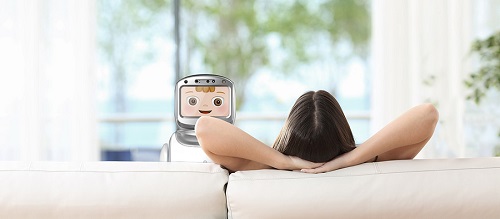 The Sanbot Nano home robot assistant. Source: Qihan Qihan Technology Company has introduced a new home assistant robot that uses Amazon's Alexa Voice Service, controls the smart home and provides remote surveillance capabilities.
The 2.7-feet tall Sanbot Nano continues Qihan's robotics-as-a-service platform and includes more than 50 sensors to avoid objects in its way, recognizes voices and knows when someone enters a room.
The features of the $2,800 robot include:
Voice assistance allowing the robot to order a pizza, request a car, track fitness stats, control the TV or play music.
Pairs with smart home devices from a variety of leading providers allowing Sanbot to control lights, thermostats or home appliances.
The Q-Link app allows families to live-stream video and control Sanbot Nano from anywhere, monitoring the house while the family is away. It also keeps tabs on the house through object detection sensors and will sound an alarm if an intruder is found.
"The world is captivated by the emergence of robotic developments and we're constantly challenging ourselves to making [sic] the most amazing robot experiences possible," says Ryan Wu, CMO at QIHAN. "Sanbot Nano's customized capabilities will make every family feel like they have a personal assistant."