Over the weekend people from around the world gathered in New York to witness the "Maker Movement"—the fostering of amateur and tech lovers' innovation and imagination—in action.
What began as a demonstration of aspiring makers' inventions and creativity at the first Maker Faire in San Francisco nine years ago has now become a worldwide movement that encompasses all-age groups and includes tech enthusiasts, craftsmen, educators, tinkerers, hobbyists, engineers, activity clubs, artists and students. This assortment of makers gather together to show the world what they have made.
Makers did just that last weekend at the 6th annual World Maker Faire in New York.
Approaching the Faire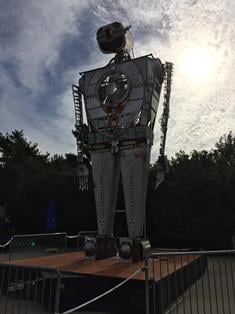 Robot Resurrection, a 28-foot-tall, human-piloted robotic sculpture constructed of 95% airplane parts built by maker Shane Evans.Upon entering the massive outdoor and indoor show-and-tell, guests were greeted by Robot Resurrection, a 28-foot-tall, human-piloted robotic sculpture constructed of 95% airplane parts built by maker Shane Evans.
Step Inside: Some Memorable Exhibits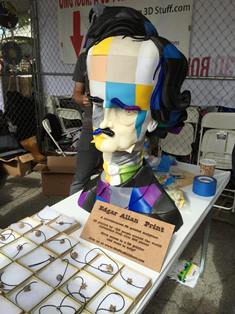 3D-printed sculpture of Edgar Allen Poe created by We The Builders.One noteworthy exhibit was Edgar Allen Print, a crowdsourced, 3D-printed sculpture of Edgar Allen Poe, created by We The Builders, a team of designers that set out to recreate full 1:1 scale replicas of Baltimore public art using 3D printing. The team asked anyone with a 3D printer to contribute beforehand and the final product was a bust of the famous writer, composed of 250 3D-printed parts from multiple sources.
littleBits, a company born from the Maker Movement, that creates over 60 interchangeable electronics parts that can be manipulated into "trillions of billions of combinations," made a large appearance bringing back its littleBits arcade game and giving guests an opportunity to put their pictures up on the Polaroid World Maker Faire Wall of Fame. Guests were able to invent a littleBits keytar and purchase it on site.
In an article published on 29 September, about maker Chris Tomko, the high-school student who designs jet engines in his backyard, also appeared at World Maker Faire, making a ruckus while firing up his homemade G1 jet engine for onlookers.[PS1]
While walking around, guests came across a variety of wandering robots all around including R2D2s, robotic dogs, and a mechanical galloping horse created by designer Adrian Landon.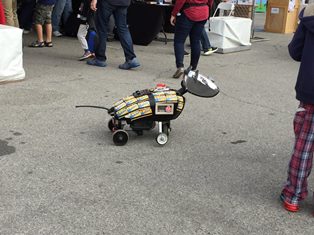 A robotic dog created by Adrian Landon.3D printing had a huge presence at the event with its very own 3D printing village, which included maker and small business exhibits such as M3D Micro, XYZ Printing, Glowforge and highlights from the 3D-Printed Habitat Challenge held by NASA that asked participants to design concepts focused on 3D printing habitats on Mars.
Big Names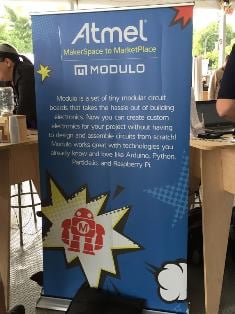 Atmel highlighted its powered projects at their booth.While Maker Faire is known for amateur enthusiast innovations, big company names such as Microsoft and Google made their way into the event by sponsoring projects. Maker Faire offers different sponsorship opportunities to create a custom on-site presence. For example, Microsoft powered many of the technologies on display at the Faire with its newest version of IoT Core, Intel featured hands-on learning activities and demonstrations of inventions that were created with Intel Edison and Intel Galileo development platforms, and Atmel highlighted AVR and ATMEL| SMART powered projects in its booth.
Getting Hands-On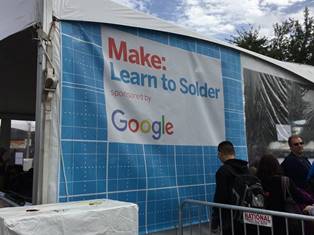 The Learn to Solder programme sponsored by RadioShack.For those who craved a hands-on experience, Google sponsored the "Learn to Solder" area. The company was inspired to bring the event to New York after it helped 4,000 adults and children, most of whom had never used a soldering iron, which created blinking LED rocket-ship pins at Maker Faire Bay area in 2014.
Speakers
Let's not forget the speaker line-up, where experts in the field discussed trending maker subject matter such as drone uses, DIY artificial intelligence, Raspberry Pi, and the future of desktop 3D printing.
Getting Involved in STEM: Maker Youth
While Maker Faire is a celebration of DIY creations, it is still a family-friendly event, and the kids were soaking up all the tech that they could over the weekend. Even many of the exhibits were inventions by students, catered to student learning, and encouraged participation in STEM.
Kids of all ages were encouraged to participate in family-fun activities such as the Coke Zero & Mentos demonstration where they witnessed fountains of soda. There was also an entire area of the Faire dedicated to inspiring projects, which were created by kids under 18 years of age and included items such as 3D-printed prosthetics and handmade tools.
A Celebration of DIY Continues
While World Maker Faire has come to an end, there are plenty of Maker Faires coming up across the world. From 3 – 4th of October you can check out the Scranton Mini Maker Faire, Wenatchee Mini Maker Faire , Greater Hartford Mini Maker Faire , Maker Faire Berlin, Maker Faire Atlanta, and Maker Faire San Diego, with plenty more filling up the rest of the month. (See calendar for more information.)
There have already been 150 Faires this year that drew in over 1.1 million attendees globally in over 30 countries around the world. Since 2000, World Maker Faire New York, the East Coast flagship event, has grown to include over 830 Makers and 85,000 attendees.
To contact the author of this article, email bryan.deluca@ihs.com
Related link: