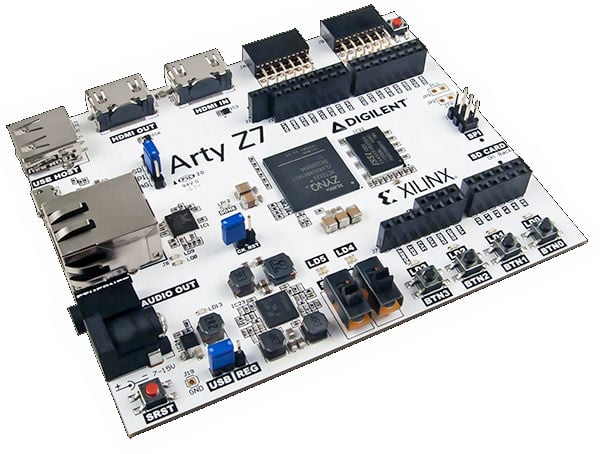 The Arty Z7. Source: MouserMouser Electronics is now stocking the Arty Z7 development board from Diligent. The Arty Z7 helps designers build a range of motor control and embedded vision systems on a ready-to-use development platform with Arduino Uno- and Diligent chipKIT-compatible headers, Diligent Pmod connectors and USB and HDMI ports.
The Diligent Arty Z7 development board is designed around the Xilinx Zynq-7000 All Programmable system-on-chip (AP SoC), which integrates a dual-core 650 MHZ ARM® Cortex®-A9 processor with Xilinx's 7-series field programmable gate array (FPGA) logic to offer to a powerful processor with a unique set of software-defined peripherals and controllers.
The Arty Z7 features a 1 Msps analog-to-digital converter (ADC), DDR3 memory controller with eight direct-memory access (DMA) channels, high-bandwidth peripheral controllers via 1-gigabit Ethernet, a USB 2.0 and a serial/digital input/output (SDIO). Low-bandwidth peripheral controllers are also available for SPI, UART, CAN and I²C protocols.
The board ships with 512 Mbytes of DDR3 memory with a 16-bit bus operating at 1050 Mbits per second and 16 Mbytes of Quad-SPI flash memory with factory–programmed 48-bit globally unique EUI-48/64 identifier. The board also offers 53,200 lookup tables, 106,400 flip-flops, 630 Kbytes of block RAM, four clock management tiles and 49 inputs/outputs (I/Os). The processor is programmable from JTAG, Quad-SPI flash and microSD card.
To learn more about this new dev board, visit Mouser.