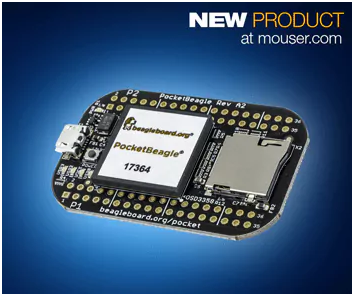 Source: Mouser
Mouser Electronics is now shipping the BeagleBoard PocketBeagle. This open source USB-key-fob computer from BeagleBoard.org provides an extensive flexibility that enables makers and designers to add only the peripherals they need.
BeagleBoard PocketBeagle is based on the 1 GHz Octavo OSD3358-SM, the smallest system-in-package (SiP) device in the OSD335x family. The 21 mm x 21 mm SiP has 512 Mbytes of DDR3 RAM. This Linux computer has an intuitive design that offers expansibility. The PocketBeagle, bolstered by two 32 bit programmable real-time units (PRUs) with single-cycle input/output (I/O) latency, enables rapid prototyping for 3D printing, robotics and education. Included on the board is an SGX530 graphics accelerator.
The PocketBeagle has 72 expansion pin headers with power and battery I/Os, eight analog inputs, 44 I/Os, USB and numerous digital interface peripherals. For reinforced power and security management, the board is supported by the Arm® Cortex®-M3 processor. The PocketBeagle also offers an SD/MMC connector for MicroSD along with high-speed USB 2.0 OTG (host/client) micro-B connector. The computer is compatible with all BeagleBoard software that does not require access to unavailable expansion pins.
To learn more about the PocketBeagle, visit Mouser.