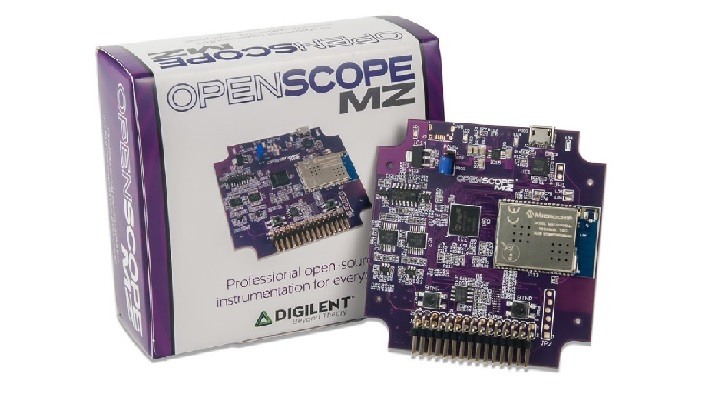 Diligent OpenScope MZ. Image credit: Digi-Key Electronics
Designed for on-the-go electronics projects, the Diligent OpenScope MZ is a portable, multi-function, programmable instrumentation module. The device connects to a computer via Wi-Fi or USB cable, allowing the user to access signals from circuits, sensors and other electronic devices. It can also be programmed to run standalone like an Arduino or Raspberry Pi, with high-speed precision analog and digital I/O.
The device also comes with WaveForms Live, a free, open-source, JavaScript-based software that runs in a browser. When used in conjunction with WaveForms Live, a user can configure OpenScope to be an oscilloscope, function generator, logic analyzer, power supply and data logger.
All features of the board are enabled by the Microchip PIC32 MZ Processor, PIC32MZ2048EFG124.
Features include:
High core performance up to 250 MHz
Integrated floating-point unit (FPU)
Wide selection of peripherals
Connectivity options, including controller area network (CAN)
Two scope channels with 12-bits at 2 MHz bandwidth and 6.25 MS/s max sampling rate
One function generator output with 1 MHz bandwidth at 10 MS/s update rate
Ten user-programmable DIO pins with 25 MHz update rates
User-programmable power supplies supplying up to 50 mA and ±4 V power
USB bus powered or externally powered
On-board Wi-Fi
Reprogrammable through Arduino IDE or Microchip MPLAB X IDE
The product is also available in extended operating temperature ranges meeting AEC-Q100 Grade 1 specifications, designed for critical automotive and industrial applications requiring reliable performance. The industrial temperature portfolio (-40° C to +85° C) has also been selectively expanded to offer a higher-speed variant (250 MHz/795 CoreMark®), designed for applications like high-resolution audio.
OpenScope MZ is now available from Digi-Key Electronics.