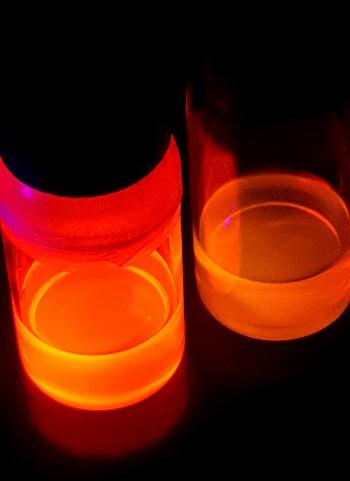 Pure red cadmium-free quantum dots next to standard OLED phosphors on the right. Source: Quantum Materials Quantum Materials reports achieving a 99.5 percent quantum yield efficiency for the company's pure red 630 nm emission peak cadmium-free quantum dots.
The material offers a high photon conversion efficiency without the use of cadmium, which is a material considered to be toxic. The quantum dots were manufactured using Quantum Materials' continuous-flow manufacturing process for uniformity in high volume.
Organic light emitting diode (OLED) displays have a better contrast ratio and color display compared to liquid crystal displays (LCDs). OLEDs are also higher in power efficiency and flexibility as they do not require a backlight. Quantum Dot LEDs could produce displays with up to 1,000 pixels per inch resolution and can be integrated into existing photo resist film layers.
"Our primary focus is on driving cadmium-free quantum dots as a phosphor replacement in OLED displays, in concordance with Apple's recent announcement regarding their integration of quantum dot and OLED technologies into QD-LED for future iPhone displays," says Toshi Ando, VP of marketing at Quantum Materials. "Our materials are the foundation for accelerating development of QD-LED displays and making them a reality for mobile devices. QD-LED display form factors are more desirable for mobile devices, and quantum dots as a phosphor replacement will radically improve color performance and energy efficiency over current OLED technology."
Quantum Materials says extracting high levels of performance from cadmium free quantum dots is not a trivial process and to do it in high volume production is even harder because the company is not making a small one-off batch requiring days of post processing. The company believes its process is commercially viable for next generation QD-LED displays for use in mobile devices.