As the quantum dot usage wins ground in the display market, industry experts are eyeing other segments where the technology could yield benefits. Lighting is a likely candidate.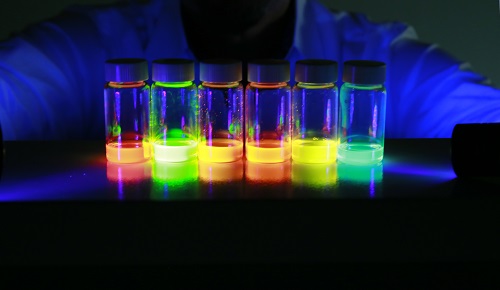 Samples of Quantum Materials Corp.'s QDX Quantum Dots. (Source: Quantum Materials)
Quantum dots – nanoparticles of semiconductor material that emit light or electrons when energy is applied to them, and vice versa, generate energy when light is applied – are being more widely used in television displays and other display applications to increase image quality, color and brightness. "In this past year, quantum dots have become the hottest thing in the high-end TV market given their higher energy efficiency and more beautiful, vibrant color performance than traditional LCD technology, as well as their lower cost compared to OLED technologies," says Dale Needham, business development director for lighting at Nanoco Technologies Ltd. located in Manchester, United Kingdom. "With the many possibilities quantum dots hold for consumer products and applications, this booming market is estimated to reach more than $5-$7 billion by the year 2020."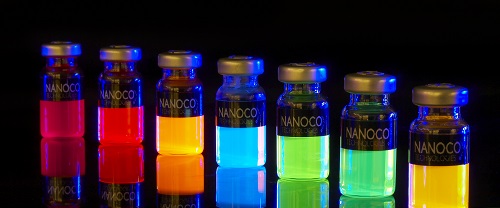 Nanoco's cadmium-free quantum dots. (Source: Nanoco)
Moving Towards QD LCDs?
LCD screens have been the first target application for quantum dots. The quantum dots' small size enables certain quantum mechanical properties and can be added between existing layers of film in LCD screens. Quantum dots are typically between 10 and 100 atoms in diameter (approximately 10,000 quantum dots would fit across the diameter of a human hair), according to a December 2015 Vista Partners report about Quantum Material Corp., a San Marcos, Texas, nanotechnology company that designs, develops, produces and supplies quantum dots, tetrapod quantum dots and other nanoparticles.
"In the television space, quantum dot technology is well established," says Fabian Hoelzenbein, market analyst for lighting and LEDs at IHS Technology. Many of the major LCD and TV manufacturers are including the platform technology in their existing products and future product roadmaps, and some industry observers believe that quantum dot LCDs (QD LCD) will be used in all televisions within the the next few years, not just the high-end products available today.
Whether or not quantum dots beat out OLED-based technology is still debatable. OLEDs are being developed for TV displays because OLED's quality and thinness was superior to traditional LCDs, but have been slow to win mass adoption because of their higher cost, says Hoelzenbein. Companies such as LG Electronics, which invested heavily in OLED development, will likely continue to push those products in the near-term in order to recoup some ROI. However, quantum dots' quality has improved the last few years and is similar to that of OLEDs, and they can be produced cheaper than OLEDs, making them a more likely choice for future development, several industry observers noted.
"OLED technology has had problems in that the projected cost decreases over time have not been realized, so mostly companies like LG who have heavily invested in and developed it are still pushing forward with it to get out of it what they can," says Stephen Squires, Quantum Materials' CEO and founder. "QD-based display applications are a next generation technology after OLED that is leap-frogging due the same and greater potential color qualities while already at significantly lower costs. The Asian consumer markets have already been seeing this preference of great color at lower price for early QD-based displays over those based on OLED technology."
Additionally, companies are considering ways to integrate quantum dots directly into existing layers of film, as opposed to layering it in between layers. Quantum Materials, for instance, is working on this, and has a product development agreement with global optical film manufacturer Nitto Denko to advance this type of integration, Squires says. The company also has a joint development agreement with a major display panel manufacturer aimed at optimizing the materials' performance. Integrating quantum dots into the film would reduce costs along with the need to retool while delivering improved benefits to display producers and consumers, he added.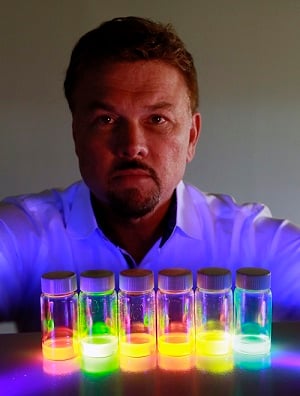 Stephen Squires, founder and CEO of Quantum Materials Corp. (Source: Quantum Materials)
Other Potential Sweet Spots
Quantum dots' ability to transfer energy into precise color also makes the platform technology attractive to other segments, namely lighting. Bio-imaging, battery and solar cells are other key areas where quantum dots may be used. Though much of the work is still in research and product development stages, lighting companies and quantum dot suppliers are looking for commercially viable ways to extend their LED product portfolios and drive new revenue streams.
Because it's still a young market commanding premium pricing (about 20 to 30% more than traditional LEDs), quantum dot technology's reach in lighting is likely to initially reach niche markets such as high-end retail and hospitality. As the price drops, that market could expand as end-users weigh the tradeoffs between traditional LEDs and newer products that enhance brightness and color control. Currently, the total worldwide market for LED lighting in retail and hospitality in 2015 was $7.2 billion, and this is forecast to almost double to $13.3 billion in 2020, making the addressable market a sweet spot for quantum dot lighting providers, says Hoelzenbein. "In LCDs, quantum dots have improved color rendering and they can do the same for lighting."
Another market where quantum dot lighting is seeing piqued interest is in horticulture and plant growing, says Hoelzenbein. Plants optimally grow with a specific spectrum of light. The size of the quantum dots can be changed to produce a desired color, or in this case, tuned to the required narrow band of light that promotes better plant growth.
As with LCD makers, there is increased conversation around adding quantum dots to lighting solutions, says Squires. "We are in discussions with all the major solid state manufacturers, and all of them have quantum dot integration into LEDs on their road map. It's not a question of if, but when. In the near-term, we expect conversations to be focused on getting the blue light out of the LED; blue light has a cumulative effect and can cause eye damage that is irreversible." He notes that other topics of discussions include: ensuring that more electricity is converted into energy and less is converted to heat; using smaller heat sinks (the most expensive part of the LED) in quantum dot lighting products; improved light tuning and integrating quantum dots onto chips.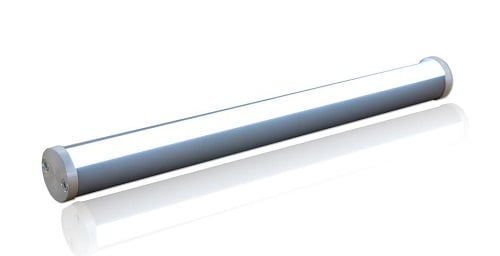 Nanoco's Cadmium-Free Quantum Dot Orion Light.
Nanoco is seeing a similar trend. "Lighting has become a core area of focus for us. We formed the Nanoco Lighting division back in May of this year to better fulfill the requirements of a growing market demand and work closely with a series of partners and customers to build the cadmium-free quantum dot materials into luminaires for market," says Needham in an email interview. "We expect wide market adoption of the technology due to its technical characteristics and advantages over other technologies on the market. Since strategically focusing on the lighting requirements at hand, we have delivered a world first in Cold White Lighting, dramatically [improves] horticultural lighting."