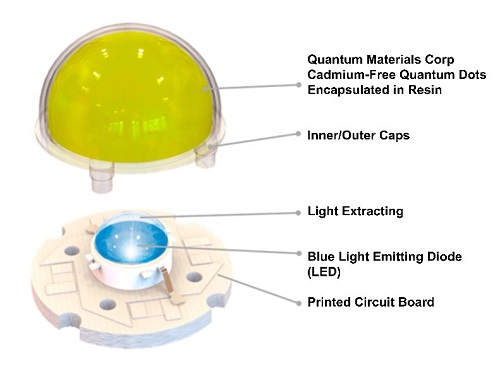 A diagram showing how quantum dots work with LEDs. Source: Quantum Materials Corp.
Quantum Materials Corp. has announced that it has exceed a 7,000-hour continuous on-time durability test for its cadmium-free quantum dots (QD) in a remote light emitting diode (LED) application.
The quantum-dot LEDs were under continuous power at 2.5 volts DC at 70 mA and were measured, initially, incrementally and at the 7,000-hour mark with no measurable degradation of intensity, peak emission or FWHM, which measures color purity.
Quantum Materials said the 7,000-hour on-time mark is a significant milestone as it may have far-reaching potential for QD-LED applications including next-generation displays and solid-state lighting.
QDs have attracted attention from lighting and display manufacturers because it is possible to simultaneously achieve bright color rending properties and high luminous efficiency when combining colloidal quantum dots with LEDs or micro LEDs.
"Exceeding 7,000 hours of continuous illumination with zero degradation is an extraordinary accomplishment that can move the reality of true QD-LED technology one step closer to reality," said Toshi Ando, Quantum Materials Corp. Senior Director of Business Development. "It is even more so when you consider all our materials, regardless of whether they are prototype or production, are produced using our proprietary continuous flow production process enabling seamless scale-up to high volume production."