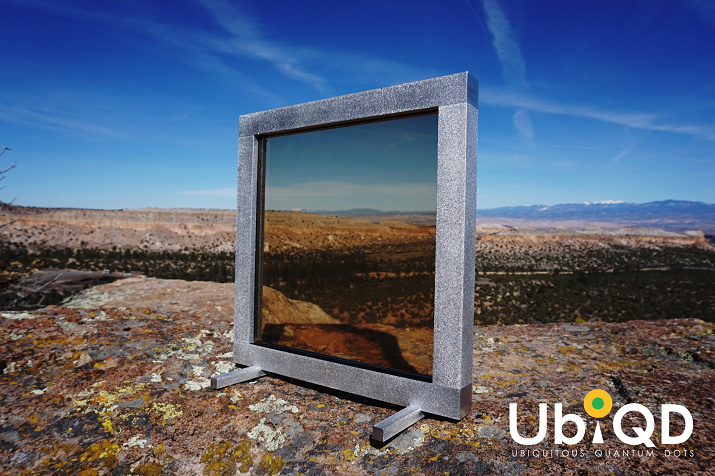 A prototype of the electricity-producing quantum dot window developed by UbiQD. Source: UbiQDTechnology start-up UbiQD LLC has achieved greater than 80% optical efficiency for its cadmium-free quantum dots over a broad spectrum from the visible to the near infrared.
For some colors such orange and deep red, UbiQD manufactured quantum dots with near 100% quantum yield. The company claims with this optical efficiency it has the highest reported photon conversion efficiency for quantum dots that do not contain cadmium—an element known for its toxicity. The quantum yield is also comparable to quantum dot technology that contains cadmium-containing nanomaterials.
A high quantum yield could have far-reaching impact on a number of applications including lighting, displays, security, biotechnology and design. The primary focus of UbiQD for its quantum dot technology is in windows that generate electricity using luminescent solar concentrators.
UbiQD has been testing its prototype luminescent solar concentrator windows using its quantum dot composites and plans to begin pilot projects to bring the technology to commercial markets later this year.
"This cadmium-free quantum dot efficiency milestone takes us one step closer to achieving our vision of powering cities with ubiquitous quantum dot window tints," says Dr. Hunter McDaniel, founder and CEO of UbiQD, in a statement. "Coupled with our low-toxicity solution and superior stability compared to other cadmium-free quantum dot materials, we offer a compelling value proposition and fast return on investment."