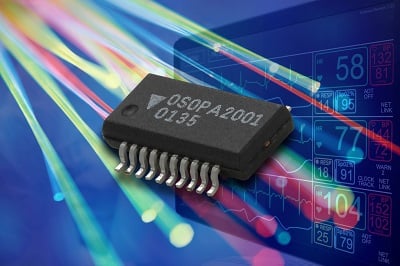 The new OSOP device. Image credit: Vishay Intertechnology
Vishay Intertechnology Inc. has extended its OSOP series of surface-mount dual in-line thin-film resistor networks.
The new resistor is optimized for precision voltage dividers and operational amplifiers and features a low 1.73-millimeter maximum seated height with a 25 mil pitch allowing designers to reduce board space requirements by more than 50 percent over current pitch standards.
The device features a low noise of less than negative 30 decibels and voltage coefficients of less than 0.1 ppm/B and operates over a wide temperature range of negative 55 degrees Celsius to 125 degrees Celsius. Designed for telecommunications, industrial, process control and medical instrumentation, the resistor is Restriction of Hazardous Substances (RoHS) compliant and halogen free.
The resistor is sampling and available in production quantities with lead times of five to 10 weeks for larger orders.