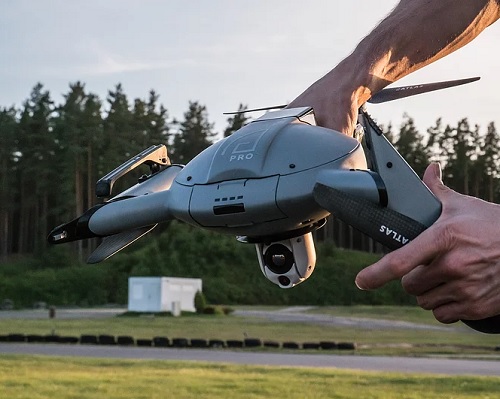 The Atlas Pro drone. Image credit: Atlas Dynamics
Professional drone startup Atlas Dynamics has raised $8 million in funding to develop its visual line of sight (VLOS) and beyond visual line of sight (BVLOS) drone-based data services.
Atlas says it uses full carbon-fiber hulls, smart lithium-silicon batteries and electronic, communication and mechanical components to optimize data collection and flight time capabilities. The company's drone platform provides up to 55 minutes of flight time with a range of about 50 kilometers, able to operate during the day or night and during extreme weather conditions.
The initial drone in the fleet is the Atlas Pro drone, an autonomous machine with interchangeable payloads and a remote controlled protective landing and charging smart docking station.
The company plans to begin distribution of its drones to North America beginning in the third quarter of this year and Atlas says the drones can be used for infrastructure inspection, construction, emergency response, security and insurance.
"The market is ready for fully autonomous drone-based solutions that are available to fly today, capable of providing key data in multiple VLOS and BVLOS scenarios," says Guy Cherni, CMO for Atlas Dynamics. "These funds will further our efforts to redefine this growing industry."