While fingerprinting and facial recognition are popular, other biometric technologies are being adopted for different uses. Source: GemaltoBiometric technologies are being billed as the next great thing in security, ID cards and banking. Use of fingerprint scans, full palm prints, vein or voice recognition, keystroke recognition and even DNA sequencing are coming to driver's licenses, passports, bank machines, smartphones and other gadgets.
Some are already here. Among the biometric technologies used today about 90% are used for smartphones, according to market research firm IHS Markit. If tablets, notebooks and smartcards are added in, that would bring the use of biometric technology today to about 99% or 100%, said Jamie Fox, principal analyst for smartphones and consumer devices at IHS Markit.
But biometrics runs a much larger gamut than just these areas, there are other fields that are using biometric technology beyond just for smartphones or banking. Here are a few you may not know existed.
Automotive Personalization
Luxury cars, such as Jaguar, are already using biometrics as a way to not just protect it from potential theft but also bring a better amount of vehicle personalization, according to Markets and Markets. Automotive biometrics are experimenting with gait recognition, a type of biometrics that identifies a person based on the way he or she walks. The technology does not require the prior consent or even awareness of the individual under observation.
In vehicles, this technology could be used to unlock cars ahead of time, adjust the seat to how a driver wants it or even bring up a person's taste in music or an individual's navigation waypoints.
DNA recognition, keystroke recognition and gait recognition markets are expected to grow to about $559.5 million by 2022, up from $140.8 million in 2015 with a compound annual growth rate (CAGR) of 22.7 percent during that time frame, according to Markets and Markets.
The Internet of Things and Retail
While fingerprint cards in smartphones and ID cards have a very high potential to be a growth area in the short term, longer term fingerprint and other biometrics will move not just to the car but also the home, potentially doing away with the need to carry home keys.
Daniel Ashraf, senior VP of biometrics at security house Gemalto tells Electronics360 that biometrics may soon be coming to power meters on a house or whole security systems where these platforms are tied into a backend system and control devices that need to be secured for critical infrastructure inside of homes.
"With evolution of interconnected rooms using online resources identifying an individual on the other side of the network is crucially important," Ashraf said.
Ashraf also points to the retail space where biometrics may be a good use in terms of clerks managing a cash register or for use in marketing to track an individual's preferences inside of a store when they look at specific items.
"Using more intelligent analytics to create a more VIP experience among retail customers could be a boon to retail establishments in building brands and engaging in repeat customers," Ashraf said.
Shoe Fitting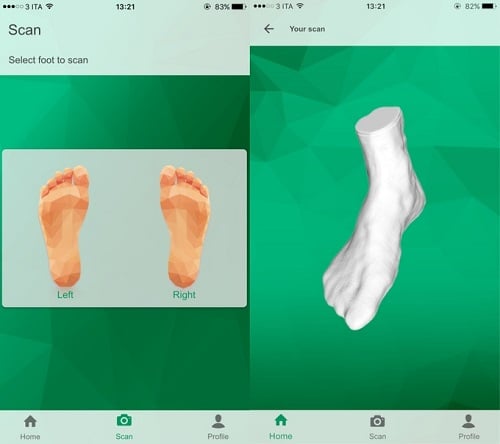 Iovado's technology uses a full 360 degree scan of a foot and accurate biometrics to build a form-fitting show. Source: IovadoNothing is worse than buying new shoes in the store thinking they fit just right and then after a few times wearing them, something just isn't right. That may change through the use of biometrics.
Using 3D printing and biometrics, a new wave of shoe fitting is emerging. Biometric technology measures the exact measurement of an individual's foot and how it is shaped, and then a 3D printer creates a customized shoe that fits like a glove.
One such company developing this process is Iovado, which promises a hand-crafted production of a shoe that brings a whole new level of personal comfort. The biometric scan of the foot allows for a 3D model of a person's foot using a smartphone in about 10 minutes. To learn more about the shoe fitting technology, check out Iovado's Indiegogo campaign at https://www.indiegogo.com/projects/first-3d-scanned-luxury-italian-handcrafted-shoe-shoes#/
Traffic Stop Identification
Law enforcement is one of the major areas for biometrics. But certain police departments are using mobile fingerprint scanners to double as an identification method for those people who cannot provide ID during traffic stops.
While it doesn't work for everyone, those that have been previously fingerprinted can be easily identified via a quick scan. It can also be used when the police believe a person is suspicious or dangerous. Usually, return results can be garnered in less than three minutes.
With mobile device scanners coming down in price, you may be getting fingerprinted the next time you get pulled over for running a red light or speeding.
Biometric Dating
Tired of having your dates from web sites turn out bad? Can't ever match with anyone on Tinder? Biometric dating is the new wave of dating web sites that uses facial cue data to provide better matches in online dating.
The gist of the technology is there are less questions to answer because the software recognition gauges a person's emotional response and facial features to find compatible partners.
Other types of biometric dating includes software apps such as The League that tell you who are a good match by scouting the competition, learning if the person is real or not through social media links and vetting.
Other apps use your heart rate to indicate if you are attracted to another person. An uptick in heart rate when you look at a photo may signal your eagerness to connect. Facial recognition is also becoming a fast way to determine if you are either getting catfished or the real deal is behind the keyboard or smartphone.