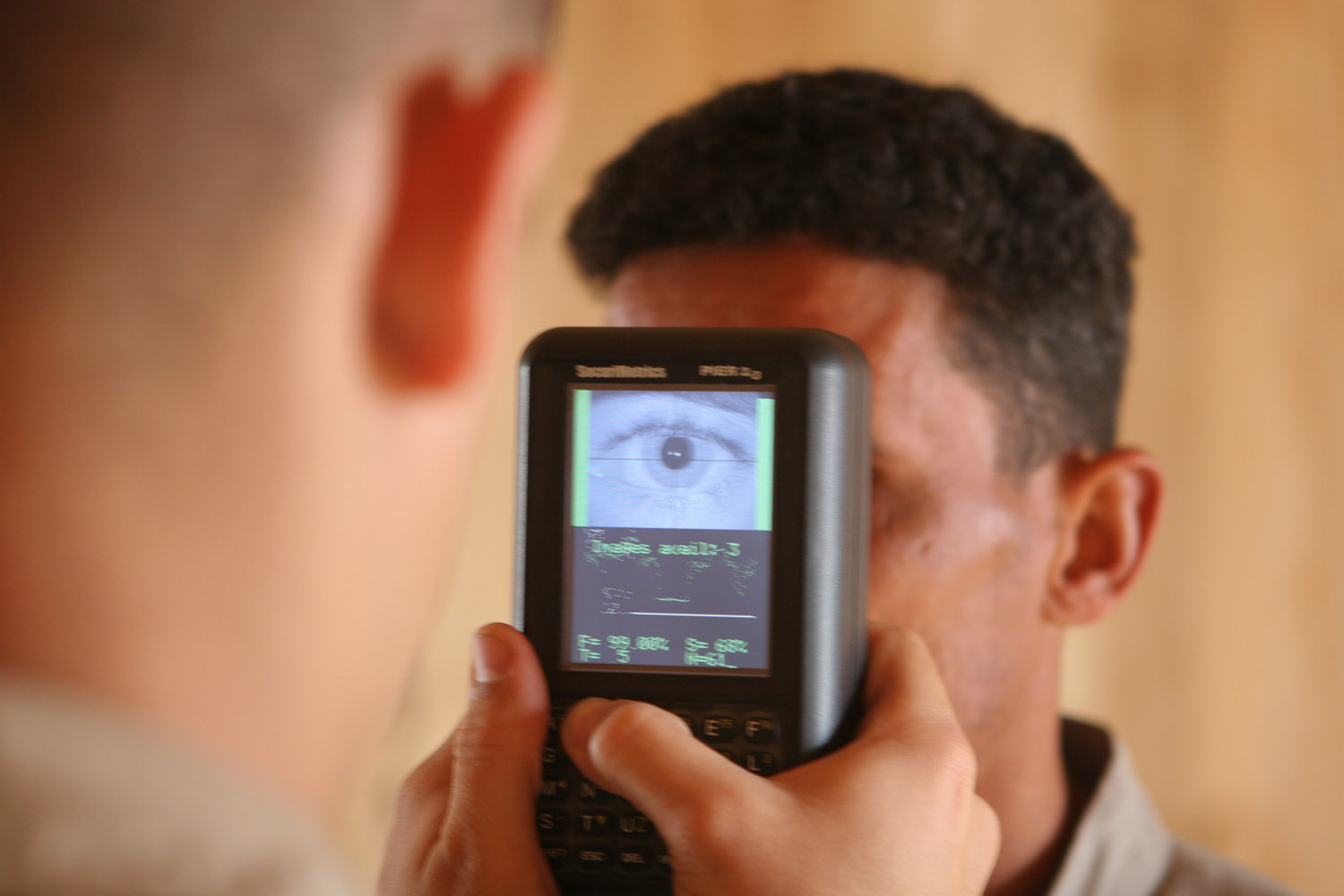 Image credit: Wikimedia CommonsUsing your body to gain access to a building or to unlock a device used to be the stuff of science fiction. No longer is that the case with the ever-evolving field of biometrics.
Biometrics, using specific physical and physiological attributes to identify a person, has taken this additional layer of security from fiction to reality.
Better than passwords and personal identification numbers, biometric coprocessors scan unique features such as retinas, irises, fingerprints, odor, vein patterns, heart patterns and other biometrics to determine identity.
Biometric coprocessors scan certain parts of a person's body (or the entire body) to match whatever they have on file. If the scan matches the scan on file (usually stored on an internal hard drive), that person is granted access to whatever it is they are trying to enter: a building, a smart phone, etc.
Biometrics coprocessors are, essentially, fingerprint readers outfitted with sensors that can be used to scan a user's eyes, voice or breath (among other biometrics). Additionally, biometric coprocessors can use lasers, cameras and heartbeat sensors to scan a person's physical attributes.
While familiar in terms of accessing highly secure buildings, biometric coprocessors are becoming more and more common in securing devices such as smartphones, tablets and domestic computers, ensuring that only the designated user can access the device.
Subsequently, many of the scanning devices available can be attached to our home computers and smart phones because they are becoming more and more affordable and their construction has become lightweight and accessible.
Applications
In addition to being used to access buildings and devices, the technology is also cropping up at ATMs and in order to "unlock" some industrial machines.
Another example of a biometric coprocessor is a breathalyzer used to measure a driver's blood/alcohol levels before a user is able to start a car.
Biometric coprocessors are also proving useful in settings such as the medical field to monitor a patient's vitals (breathing, heart rate, blood sugar, etc.) and in security situations requiring absolute identification verification. Instead of relying on a security guard, biometric processors need only scan a user's physical attributes to reliably determine a person's identity.
Types
There are several unique identifiers that biometric coprocessors can currently measure. Some examples:
Body: Full body scans are commonly employed to access high-security buildings. In order for a person to be granted access. The full body scan will focus in on unique details of the user's body (measuring body parts and other characteristics) and matching them with whatever is on file from previously stored images. Unfortunately, the scan on file has a relatively short shelf-life due to changes that can take place in the course of aging (weight gain/loss, injury etc.)
Retina: Retina scanners can determine a person's identity by matching a person's unique retina patterns to a previously scanned image. Made up of the retinal vein (a complex blood vessel), the scanner matches the reflection of light that is absorbed by the retinal vein with the stored image. This biometric is reliable enough to distinguish between the retinas of identical biological twins.
Odor: Like fingerprints and other unique identifiers, our scent is exclusive to us. This makes sense if you consider how bloodhounds are employed by police departments in searching for missing individuals. However, unlike bloodhounds, our modern day odor detection devices aren't as accurate in detecting a person's scent despite the fact that our natural odors are unaffected by disease, by foods consumed or by being cloaked in perfumes and detergents.
Facial recognition: This biometric coprocessor matches unique facial features to previously scanned facial features. Like a full body scan, this biometric is subject to changes in weight, aging, etc. Often used in security systems, the system focuses on specific features such as cheekbone shape or eye-socket depth. Also commonly used in picture-tagging functions on social media like Facebook.
Iris recognition: This scanner is similar to retina scanners but with a focus on the unique features of the iris.
Fingerprint scan: A fingerprint scanner scans the unique ridges and valleys making up the surface pattern of the fingers. These patterns are unique from individual to individual and are compared to previously scanned fingerprints.
Ear scan: This scan matches the unique shape of the ear (similar to facial recognition scans).
Voice recognition: This form of recognition relies on matching features of the user's voice patterns such as inflection, cadence, nasal tone and frequency
Signature recognition: This biometric coprocessor detects similarities and/or differences in how a person signs their name by focusing on such characteristics as the pressure, stroke and speed at which a person signs his or her name.
How Biometric Coprocessors Work
For facial recognition, the biometric device uses a high-definition camera while a voice recognition biometric coprocessor might employ a voice recorder. Other biometric coprocessors rely heavily on biometric sensors that obtain biometric information either through temperature, light, speed, electrical capacity or other energies.
Disadvantages
While there are many advantages to employing biometric coprocessors as a form of security, there are drawbacks as well. Because the crux of biometrics as an identifier is focused entirely on unique bodily features, it should be noted that changes in the human body may not match the stored images over time.
People can gain or lose weight, or maybe disfigure themselves in some scenario that might conflict with whatever biometric information is stored away. Any changes or alterations to the body may only serve to confuse the coprocessor, thereby denying a user access to whatever is being secured.
Resources
Bioenable—Eye Scan—Retinal Scan
Biometrics Institute—Types of Biometrics
Biometric Security Devices—What is a Biometric Coprocessor Driver?
EL-PRO-CUS—Biometrics Sensors—Types and Its Working