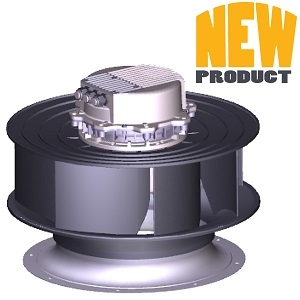 Image credit: Continental Fan
TME High Efficiency EC Impellers from Buffalo, NY-based Continental Fan combine a new highly efficient backward curved impeller design with the latest technology and integral controls of an electronically commutated (EC) external rotor motor.
The impellers are fabricated with long glass-fiber polypropylene material and offer significant weight reduction and ease of installation. They are suited for many OEM air-moving applications such as electronic cabinet cooling, clean room modules, air filtration systems, heat exchangers and air-handling units.
The 200-277V single-phase units include a dual frequency motor (50 Hz & 60 Hz) with capacities to 5,000 cfm. The impellers are also available in 200-240 and 280-480V three phase units with capacities to 8,095 cfm.