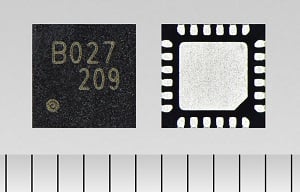 The TC78B027FTG component. Source: ToshibaToshiba America Electronic Components Inc. has introduced a three-phase brushless motor control pre-driver IC with intelligent phase control (InPAC) technology.
The discrete component can be used to achieve operating efficiency in applications such as high-velocity server fans, blowers and pumps. These applications operate with high-speed impellers that require high power capability and the TC78B027FTG device can drive a wide range of external MOSFETs to meet these challenges.
The discrete component eliminates the need for an external MCU for a closed-loop speed control. Additionally, the TC78B027FTG requires only one Hall sensor input that can be used either with a single Hall sensor motor or the conventional three Hall sensor motors.