The ebm-papst W2E200 and W2E250 axial fan packages are available with improved efficiency and controllability supplied by an electronically commutated (EC), permanent magnet, brushless DC motor. The EC motor offers an improvement in efficiency over the company's PSC version, according to the company.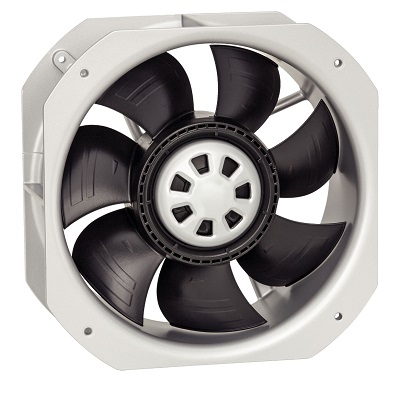 ebm-papst W2E200 and W2E250 axial fan packages.
Motor speed control capability allows the user to match changing performance requirements in the application and adds another method for reducing power and acoustic noise. Speed control is handled through a simple 0-10 VDC control signal to the motor. A 10 VDC output is supplied by the EC motor. The 10 VDC output can also be jumpered to the control signal input for a fixed maximum speed.
The W3G200 measures 225 x 225 x 80 mm and produces 590 cfm (230 V version) or 623 cfm (115 V version). The WG250 measures 280 x 280 x 80 mm and produces 846 to 1120 cfm, depending on voltage.