Ecofit-brand high-efficiency E-Wheel backward-curved impellers are now available from Rosenberg USA in 192 mm (7.5 inch) and 220 mm (8.6 inch) sizes with a choice of 115 V or 230 V input. The blades of the new impellers are made from UL 94 V-0 reinforced plastic in a special airfoil design that improves ventilation efficiency and saves energy while reducing operating noise.

The 192 mm fans generate maximum airflow of 421 cubic feet per minute (CFM) at free air. The 230 V model offers 234 CFM at .8 inches of pressure with only 56 dB(A) of noise.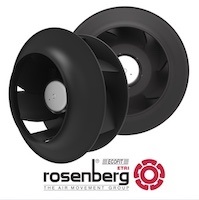 Source: Rosenberg USA
The new 220 mm models provide a maximum airflow of 586 CFM (230 V) at free air with 66 dB(A) of operating noise. The noise level at 1.3 inches of static pressure drops to just 61 dB(A).

Ecofit E-Wheel fans offer smart solutions for many ventilation applications, including air filtration, exhaust fans, HVAC, cooling and thermal management.

The single-phase AC motors for the new fans are CE approved and UL recognized. They are built with standard Class F insulation and Type 2 ball bearings.